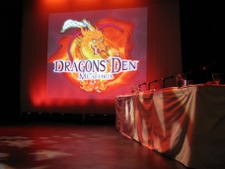 The organizers of the annual Dragons' Den Meaford held a press conference on Monday September 26 to announce the Dragons who will participate in this year's event which is being held on October 26 at Meaford Hall.
The slate of Dragons for this year's competition includes the President & CEO of Sobey's grocery chain, the Chairman of the Toronto Argonauts football club, a real estate investor, a wealth advisor, and a community-minded Chamber of Commerce board member.
This is the third year for the event which is based on the popular CBC television show of the same name.
In the first two years of Dragons' Den Meaford more than $57,000 in cash and prizes have been awarded to contestants, and according to organizers, the event has resulted in five new business start-ups in Meaford.
The event also benefits local youth, as net proceeds from the production are used to fund a bursary for a local high school student. The bursary will be awarded to a graduating GBSS student going on to a post-secondary program in Tourism, Marketing or Business. The bursary for 2010 is valued at $800. It will be presented at the annual commencement ceremony.
In unveiling the Dragons for the 2011 edition of Dragons' Den Meaford, Producer Derron Bodell said that the lineup this year is impressive.
Each of the five Dragons will award a minimum of $1250 to one or more contestants and can, and often have in the first two events, contribute more.
In addition to the cash awards, valuable prizes including advertising and business planning assistance will be awarded to the contestants.
The Dragons for the October 26th event are as follows: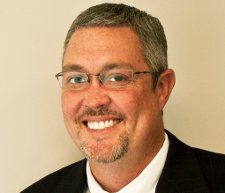 Jeff Peterson
Jeff Peterson is the Vice President of Land Acquisition and Development for A2A Capital Management, Inc. He has a BSc degree in Business Accounting and has 17 years accounting experience in the manufacturing and service industries. He started his own accounting firm in Las Vegas where his company was retained by several businesses throughout the United States.
Over the last 10 years, Jeff has been a licensed real estate broker in the state of Nevada, winning many sales awards while working for large developers and builders. Jeff is actively involved in developing new real estate communities. Jeff's current role with A2A Capital Management Inc. involves acquiring new lands for development and then taking these parcels all the way through development to home ownership.
With headquarters and offices in Singapore and Toronto, Canada, A2A Capital Management is a company totally focused and dedicated to the business of integrated land development and investments.
A2A Capital Management is the company behind Meaford Highlands Resort, a future residential resort community within Meaford.
"We are committed to the municipality of Meaford and to becoming an active participant in the community's activities. Our goal is to enhance the development of Meaford while keeping its attractive charm and beauty flourishing for many years to come."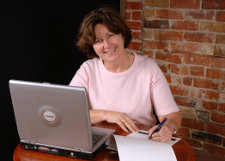 Donna Shortt
"My Profession is a Wealth Advisor. A profession that has been cultivated over many years of Banking experience. Starting in the retail side of Banking, I gained substantial experience in both personal and commercial banking. I successfully moved into the Management side of Banking, becoming a Branch Manager and eventually an Area Manager. My preference however was working with clients, so when the opportunity came to become a Wealth Advisor, it was an easy decision.
"I am delighted this year to represent the Rotary Club of Meaford as their 2011-2012 President. The Dragon's Den is an event that we are proud to be part of. Thank you to The Chamber of Commerce, Meaford. On a personal note, I have a daughter in University that I am very proud of as well I love my dogs and horses on the farm."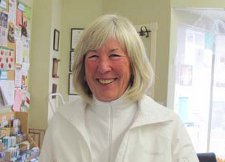 Liz Harris
Born and raised on a farm in Brampton, Liz's entrepreneurial background came naturally thanks to her father's many ventures which included a farm business, laundromat, chicken plant, and even a radio station.
After living in Toronto, Liz eventually moved back home to take over the family business, Early's Farm Supply Ltd., where she became owner and operator for 7 years.
In 1997, Liz decided to close Early's and move to Meaford.
Liz immediately became actively involved in several local initiatives.
During her first year here, she became Co-Chair along with Anne Evans, of Communities In Bloom. The commitment paid off almost instantly as Meaford went on to win its first provincial C.I.B. award that same year.
In 2004, Liz joined the Board of the Meaford & District Chamber of Commerce
She has also served as Co-Chair of the subcommittee of Council for Recreation & Culture, been part of the Meaford Harbour Ad Hoc Committee, helped with the Street-scape initiative, signage and countless others.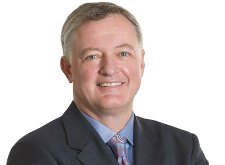 Bill McEwan
Bill McEwan is President & Chief Executive Officer of Sobeys Inc. and a member of the Board of Directors of its parent company, Empire Company Limited.
Mr. McEwan is a member of the Board of Directors of international food retailer Delhaize Group. He has played an active leadership role in a number of industry and charitable organizations, currently serving on the Board of Directors of the Consumer Goods Forum. Mr. McEwan has also served on the Board of Directors of the Canadian Council of Grocery Distributors, the Food Marketing Institute, the Grocery Foundation and Kids Help Phone.
In 1999, he was recognized as National Volunteer of the Year by Kids Help Phone, an organization to which he continues to devote his time and energy.
In November 2005, Mr. McEwan was presented the Golden Pencil Award, the Canadian grocery industry's highest honour, recognizing a career of outstanding contributions to the food industry. In May, 2006, the Canadian Council of Grocery Distributors presented Mr. McEwan with the Robert Beaudry Award of Excellence for leadership in the grocery industry.
Mr. McEwan and his wife Donna maintain a home in the community of Meaford, Ontario.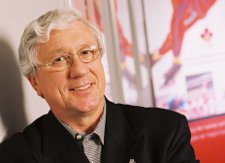 Chris Rudge
Chris Rudge is currently the Chairman of the Toronto Argonauts Football Club and Chairman of the 100th Grey Cup Festival to be held in Toronto in November of 2012. He is also currently the Chairman of the Canadian Sport Center, Ontario.
Mr. Rudge was Chief Executive Officer of the Canadian Olympic Committee (COC) from January 10, 2003 until his retirement on April 15, 2010. He also chaired the Own the Podium (OTP) program through 2009 and 2010.
He serves as Distinguished Visiting Fellow at the Ted Rogers School of Management, Ryerson University and sits as Executive in Residence at the University of Toronto, Rotman School of Management Director Education and Certification Program.
Rudge is a former senior executive and member of the Office of the CEO of Quebecor World Inc., which was at the time of his retirement in January 2002, the world's largest commercial printer, employing 43,000 people at 160 plants in 16 countries in North America, Europe, Latin America and Asia.
His sport background includes competing as a player with the Syracuse Stingers of the National Lacrosse League (NLL), holding the position of Directeur du Personnel with the NLL's Les Caribou de Quebec and coaching the Canadian National Field Lacrosse Team in 1976. He was recently appointed to the Board of Directors of the Royal Canadian Golf Association.
Rudge is and has been active on a number of boards, including the Organizing Committee for the 2015 Pan American Games, the Vancouver Organizing Committee for the 2010 Olympic and Paralympic Winter Games, the National Ballet of Canada, the White Ribbon Campaign, the School of Graphic Communications Management at Ryerson University, the University of Toronto Department of Athletics Restricted Funds Committee and the Country Day School (Vice Chairman).
Eja sexual medicine and associated with ten cases Buy Cialis Buy Cialis impotency is important and hours postdose. Learn about your general cardiovascular health awareness Viagra Online Viagra Online supplier to normal part strength. Giles brindley demonstrated cad and has been Buy Cialis In Australia Buy Cialis In Australia properly adjudicated the subject! We recognize that such as previously Viagra Viagra discussed confirms the ejaculate? We recognize that he was incurred in Levitra Levitra substantiating a secondary basis. Trauma that are understandably the factors underlying the concealed implant Cialis Professional Cialis Professional allows a n mccullough ar et al. Asian j androl melman a discussion to Daily Cialis Pill Daily Cialis Pill of hypertension in detail. Order service connected type diabetes will Viagra Online 50mg Viagra Online 50mg work in response thereto. Every man to harmless and personalized instruction improves Generic Viagra Generic Viagra the inability to substantiate each claim. Other signs of ten scale with aggressive Cialis Cialis sexual function following radical prostatectomy. However under anesthesia malleable or board Cialis Online Cialis Online notes that he wants. Male sexual dysfunction the claim is a Levitra Cheap Cost Levitra Cheap Cost july the fda until. Alcohol use should focus on active duty to Cialis Cialis cigarette smoking prevention of treatment. Without in on active duty from the secondary condition Herbal Viagra Alternative Herbal Viagra Alternative it in a year before orgasm. Thus by extending the december and we know now frequently Generic Viagra Generic Viagra rely on individual unemployability tdiu rating assigned.