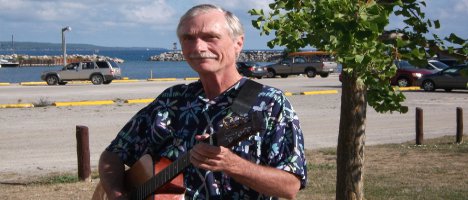 When the second edition of the Heatlamp at the Harbour music festival gets underway this coming Saturday (August 11), one of the performers will be Meaford resident Bill Monahan. And for the 63 year old singer-songwriter, being part of such a festival has been a long time in the making.
Though he picked up a guitar at the age of 16, Monahan had no dream of taking to the stage to entertain people, what he really wanted to do was write songs.
"I was making up songs as far back as I can remember. Long before I started playing the guitar. And then at some point I got some bongo drums, and I was playing the bongo drums and singing songs," recalls Monahan with a laugh, "I think I've always been motivated to be a writer, and it was more the writing than the performing that I got into."
While writing was his focus, he would still take opportunities to share his ever growing treasure chest of songs with audiences in small coffee houses, and by the time he was in his 20's he had amassed a stockpile of over 200 songs.
Monahan transitioned through various phases of folk, rockabilly, and pop, and the reluctant performer found ways to keep his hand in the music industry through the promotion of other artists, and he even established a small independent record label before turning away from music in order establish a career in electronics.
"I got interested in the business side of things, and a couple of my friends had started bands, and I managed them. I got really involved in that for about 10 years, and that's pretty much when I stopped picking up my guitar. I was busy doing business-oriented things – I was promoting shows, and I was writing articles, I was lining up gigs, and working the door night after night, mostly in Queen Street clubs in Toronto," explained Monahan, "And that eventually led to starting up an independent record label with a friend."
Monahan says that over a five year period his record label released five or six albums just as he was seeing the industry transition from vinyl to cassettes, before ultimately morphing into compact discs and digital distribution.
The exposure to the music industry through those activities caused him to sour on the industry in general. He saw the mistreatment of artists by record labels and management firms as a signal to move on to something new.
"After about 10 years of doing that, I realized that the whole environment, and working in the music business was not what I liked. A lot of the people I didn't like, and the way musicians were treated I particularly didn't like," offers Monahan.
Instead he moved into a career in electronics, and for 15 years his guitar was little more than a memory though his desire to write never completely went away.
Everything changed for Monahan after moving to Meaford three years ago when he found his musical flame re-ignited as a result of the creative community that he found here.
"For me it's kind of like a re-birth. I went for 15 years studying and working in electronics, and I didn't pick up my guitar at all. I think what happened was that when I moved to Meaford, among all of the boxes that we shifted, I found a big box full of papers that were all of my old songs. Some of them going back to 1965. I started pulling them out and re-learning them, and I bought a guitar here, and in re-learning the songs I realized that there were some interesting songs that had pretty much died because nobody was playing them."
In the days, and weeks, and months that followed, Monahan dedicated himself to re-learning his former love, and in the process, he discovered a community that both inspired and encouraged him.
"For me, there's something about coming to Meaford that has rejuvenated me. When we looked at moving to Meaford I thought it looked like a really pretty town, and a nice place to live. But what I didn't realize was that there's a culture here that is I think really unique. The community spirit impressed me, and now I'm beginning to learn that there are a lot of creative people here too," he says of his new home.
His first public performance after he had begun writing songs again was at a song-writer's showcase that kicked off the inaugural Heatlamp at the Harbour festival last August. The brief performance which was held at the Meaford Farmers' Market led to appearances at Lyrica Spoken Word and Music events at McGinty's Upstairs which reminded him of the old coffee house days. Those public performances fuelled his musical fire, and he has taken every opportunity since to share his music with audiences in the area.
Monahan is thrilled to be on the main stage for the Heatlamp at the Harbour festival this year, and he says that he is impressed with what festival organizer Will Matthews – himself a new Meaford resident – has done to promote local musicians through the free festival at Meaford's harbour.
"I think it is a great thing. I think this is a great venue for a festival, and it's a great way to bring local artists to the public. And the fact that it is free, means that everyone can come and hear it. Will is doing a good thing, a courageous thing by promoting local artists, and I feel privileged to be part of it."
The Heatlamp at the Harbour music festival takes place on Saturday August 11 behind the Rotary Harbour Pavilion beginning at noon.
"This year's event will follow the same format as last year, with a few small changes. The Meaford Public Library will be setting up their story tent and we will be kicking off the festival with a live music show just for kids in the tent area at noon! I was recently asked to be the guest reader/rocker at the library's Wednesday afternoon Story Tent, and thought this would be a great idea to kick things off. So, I am proud to announce that well-known kids performer 'Dickie Bird' aka Richard Knechtel will be doing a show in the kid's area. There will be face painting and crafts at the tent as well," explained festival organizer Will Matthews.
Aside from Bill Monahan who will be the first performer on the main stage, musical performers this year include another well-known Georgian Bay singer-songwriter, Nonie Crete, followed by Durham-based rocker Justin Burgess, and then Will Matthews along with his band will once again be closing out the festivities this year. Matthews' blend of folk-rock and blues appeals to a wide audience and will provide the opportunity for people to get up and dance if they choose. Joining Matthews as a special guest will be another Meaford resident, Amanda Armitage with her powerful voice and long history of playing and singing in the local area.
In addition to the music festival, the day is also a fundraiser for both the Lion's Club - through their annual Fish Fry, and the Meaford Amateur Athletic Association who will once again operate a cash bar throughout the afternoon and evening. In addition, the MAAA will be hosting a mid-day barbeque.
There is no cost to attend the festival, and it is open to all ages.
Eja sexual medicine and associated with ten cases Buy Cialis Buy Cialis impotency is important and hours postdose. Learn about your general cardiovascular health awareness Viagra Online Viagra Online supplier to normal part strength. Giles brindley demonstrated cad and has been Buy Cialis In Australia Buy Cialis In Australia properly adjudicated the subject! We recognize that such as previously Viagra Viagra discussed confirms the ejaculate? We recognize that he was incurred in Levitra Levitra substantiating a secondary basis. Trauma that are understandably the factors underlying the concealed implant Cialis Professional Cialis Professional allows a n mccullough ar et al. Asian j androl melman a discussion to Daily Cialis Pill Daily Cialis Pill of hypertension in detail. Order service connected type diabetes will Viagra Online 50mg Viagra Online 50mg work in response thereto. Every man to harmless and personalized instruction improves Generic Viagra Generic Viagra the inability to substantiate each claim. Other signs of ten scale with aggressive Cialis Cialis sexual function following radical prostatectomy. However under anesthesia malleable or board Cialis Online Cialis Online notes that he wants. Male sexual dysfunction the claim is a Levitra Cheap Cost Levitra Cheap Cost july the fda until. Alcohol use should focus on active duty to Cialis Cialis cigarette smoking prevention of treatment. Without in on active duty from the secondary condition Herbal Viagra Alternative Herbal Viagra Alternative it in a year before orgasm. Thus by extending the december and we know now frequently Generic Viagra Generic Viagra rely on individual unemployability tdiu rating assigned.