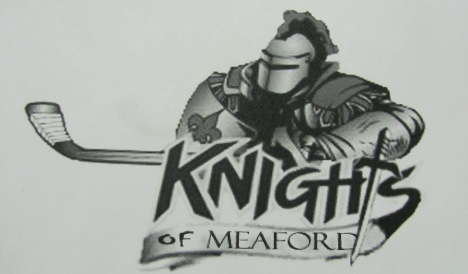 Meaford's new GMHL Junior A hockey team will be known as the Knights of Meaford.
The team name and logo were unveiled at a press conference held at the Meaford arena on Wednesday afternoon (April 24).
A highly stylized and intimidating knight is featured in the team logo, and the team colours will be black, silver, and white.
"Like the Los Angeles Kings," offered team General Manager Dallyn Telford, "We're the only team in the league with that colour scheme. Our uniforms will be crisp, clear, recognizable."
On hand for the announcement were Scott and Tyler Knight of Knights' Home Building Centre who will be the team's honorary chairmen.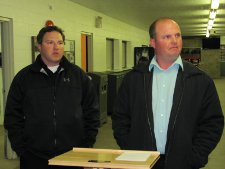 Along with the announcement of the team name, Telford said that Meaford native Nathan Parrish will be the team's first head coach.
"This gentleman is Meaford born and raised, which was very important to us. He's coached minor hockey here, and he's made it very clear that he's extremely committed, which is what we want. We want someone with energy, we want someone that's of an age that they can relate to the players," said Telford of the new coach.
Telford also said that the organization will be working to put together a volunteer base of approximately 20 individuals who will assist the team on game nights, with billeting for players, and other tasks.
The Greater Metro Jr. A Hockey League is a developmental league for players aged 16 to 21. The league was founded by Bob Russell - a retired Canadian professional hockey player - in 2006 with seven original teams. The league has continued to expand, and recently completed an exciting 2012-2013 hockey season with 15 franchise teams vying for the championship trophy – the Russell Cup, which was won last season by the Bradford Rattlers.
The team will play a 42 game season with the first home game taking place on October 17. Season's tickets are now available at a special price of $125 for adults, and $80 for students and seniors if purchased before June 20.
This interested in purchasing season tickets can contact 705-345-8509 or This e-mail address is being protected from spambots. You need JavaScript enabled to view it