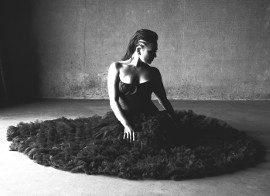 "You touched my soul."
That was one of the reactions to the performance May 7 following a performance by Tanya Tagaq as Meaford Hall celebrated its grand reopening following renovations to the balcony. Tagaq squealed with delight and rushed around to give the fan a huge hug, thanking him profusely.
Tagaq, a noted aboriginal artist with roots derived from traditional Inuit throat-singing, dazzled a half-full Meaford Hall with her tour-de-force live soundtrack to a screening of the famous 1922 film, Nanook of the North.
It's been a passion project for Tagaq, an Inuk born in Cambridge Bay on Victoria Island in Canada's Arctic Archipelago.
Nanook, often inaccurately called the first documentary, has been seen by many Canadians over the years. Even though it's taken substantial criticism for its staged scenes and inaccuracies, it's long been influential in shaping opinions of how the Inuit, including Tagaq's Inuk people, traditionally lived in the Arctic.
In 2012, Tagaq began working on 'reclaiming' the film, in partnership with the Toronto International Film Festival, by providing a soundtrack for the silent film. Since then, she's received permission to tour with the film, and that's what she treated the audience to on Sunday night.
She's particularly resentful of what she calls the "stereotypical happy Eskimo" in the film, set in Labrador in the period just before 1920.
Tagaq mesmerized the audience with her richly evocative mix of primal sounds to accompany the film, which seemed perfectly matched to the subject matter. Her style is indescribable and truly must be seen and heard to appreciate.
Mary Little and Richard Sitoski were amongst the audience members who were entranced by what they saw. Both are musicians and artists in their own right, and know a rare talent when they see one.
"I was blown away," Little said. "I haven't seen anything like that. It was incredible."
Tagaq, who is currently living in Toronto, said she couldn't wait to return to the North, where her heart lies, despite being very impressed with the scenery in the Meaford region.
"I can't wait to go back," she told several people.