Details

Published: Monday, 26 June 2017 06:36
Written by Staff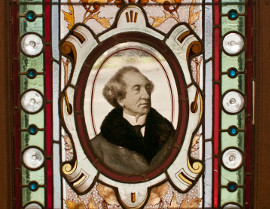 Just in time for Canada's 150th Birthday, the Meaford Museum is looking for answers to a local Canadian mystery - How did a beautiful stained glass window of Sir John A. MacDonald, dating to the 1800s, end up in Meaford?
Museum staff received the window through a donation, but the history of the glass remains unknown. The window appears to be the only one of its type in existence in Canada, and museum staff have been unable to dig up any information on its history.