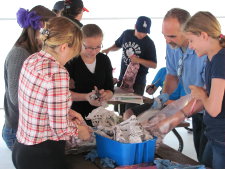 Students from Meaford Community School (MCS) spent some time at the Rotary harbour pavilion last week helping to prepare some arms and legs that will be matched up later this summer with scarecrow bodies in preparation for this year's Scarecrow Invasion & Family Festival.
The first phase in preparing roughly 250 scarecrows for the annual Scarecrow Invasion & Family Festival is stuffing plastic bags with newspaper in order to create 500 arms, 500 legs, and 250 heads and torsos.
The MCS students were busy preparing arms and legs on Wednesday, June 3, while other volunteers were creating heads for the scarecrows.
Head Scarecrow Marilyn Morris told The Independent that the festival would not be possible if not for the hundreds of volunteers who dedicate numerous hours each year preparing for the event.
More than 250 volunteers help each year with preparations for the Scarecrow Invasion, and many of them dedicate a substantial number of hours assembling and displaying scarecrows throughout the municipality, as well as coordinating the family festival held at Meaford's harbour.
So outstanding is the volunteer commitment to the event that four years ago Meaford's Scarecrow Invasion & Family Festival received the June Callwood Outstanding Achievement Award for Voluntarism in Ontario. The award was presented at a special ceremony in Toronto.
Morris said that she would love to see more high school students participate both at scarecrow building workshops and during the festival itself, as it's a fun way to log the volunteer hours that students need to accumulate prior to graduating.
In recent years, organizers of the event have developed an annual theme for the Scarecrow Invasion, which has helped increase the participation of business owners who create displays in shop windows leading up to the event. The very first theme for the Scarecrow Invasion was The Wizard of Oz, which resulted in a wide range of creative displays which paid homage to the classic movie.
The theme for the 19thedition of the festival, which will be held on Friday, October 2, is "Scarecrows Celebrate the Year of Sport".
Remaining Scarecrow Body Building and Assembly Workshops:
Wed. August 12 - 6:00 pm - 8:30 pm (evening)
Thur. August 13 - 9:00 am - noon
Wed. August 19 - 9:00 am - noon