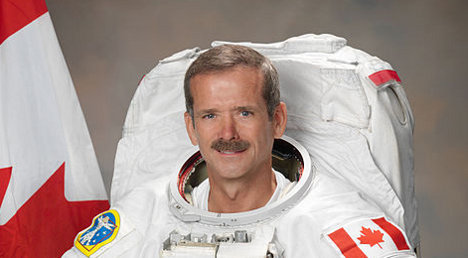 Retired Canadian Astronaut Colonel Chris Hadfield will be speaking at OSCVI Auditorium on September 28, 2013 at 7 p.m.
Hadfield will speak about his recent five month voyage in space and his experience as Commander of the International Space Station.
"In his passionate and illuminating talks, Hadfield imparts the useful and practical lessons he's learned throughout his remarkable career in the fields of leadership, teamwork, collaboration, science and technology, and motivates audiences to achieve dreams higher than the clouds," said organizers in a press release.
Hadfield returned to earth on May 13th, and recently opened the Calgary Stampede, and addressed the nation from Ottawa during the Canada Day celebrations.
The Meaford Hospital Foundation is organizing Hadfield's speaking engagement in Owen Sound, and proceeds from this fundraising event will support the six Grey Bruce Health Services hospitals.
"We are extremely fortunate that Colonel Hadfield has agreed to come to Owen Sound. Only a small handful of people in the world have been to outer space, and Chris Hadfield went out of his way to share his experiences, and make people of all ages feel like they were right there with him, looking down on earth," said Dave Glass, Fundraising Chair of the Meaford Hospital Foundation.
Tickets will go on sale July 22, and will be available through the Roxy Theatre website at roxytheatre.ca or by calling 519-371-2833 or 1-888-446-7699. Tickets are $100.00 with a charitable tax receipt for $40.00.
The Meaford Hospital Foundation is currently accepting sponsors for the event. Information on sponsorship is available by calling 519-538-1311 Ext 4208.