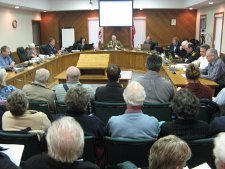 After months of debate both in the community and around the council table, Meaford Council has put an end to a proposal for a waste to energy facility in the municipality.
After a 5 – 2 recorded vote in support of a resolution to put an end to the issue once and for all, council has sent a clear signal that they have no interest in exploring the project further.
"Be it resolved that Council of The Municipality of Meaford hereby declare there is no interest by the Municipality to host a waste to energy gasification project, and therefore will not sign a Memorandum of Understanding with Partners Energy Group Ltd., and declare the matter is no longer under consideration," read that resolution.
Only councillors Deborah Young and Lynda Stephens voted against the motion, maintaining a position they and former CAO Frank Miele – who championed the proposal - held for months in spite of strong public resistance.
In October of last year, Partners Energy Group (PEG) made a presentation to council which outlined a proposal which would have seen a $40 million facility constructed on the municipal operations property on the 7th Line. That property is surrounded by residential homes and agricultural land.
According to PEG, the Municipality of Meaford would have owned 51 percent of the operation however they would not have needed to contribute any funds to the start up or operational costs.
The proposal indicated that the $46 million required to fund the public-private-partnership (P3) start-up and initial operation costs would have been raised primarily from $40 million to be borrowed from banks and other lenders. The proposed partnership would have required a 20 year agreement between the municipality, PEG, and the Ontario Power Authority (OPA).
In their initial presentation to council PEG indicated that Meaford would have been able to dispose of not only their own solid municipal waste, but waste could have been transported to Meaford from other municipalities to be processed in what had been described as a "gasification" system. Gasification is a form of incineration in which materials are heated at extreme temperatures resulting in both a steam which can be used for generation of electricity and an ash which requires disposal.
Former CAO Frank Miele later suggested that municipal waste was a secondary concern and that the primary fuel for the facility would have been waste lumber.
During discussion around the council table on April 23, Councillor Deborah Young maintained her strong support for seeing the process through and allowing PEG to hold a public information meeting before making any final decision.
A citizen activist group who called themselves Meaford Against Gasification Group (MAGG) held their own meeting on January 6 of this year which saw some 200 residents attend to learn more about the potential dangers of incinerating municipal waste.
Guest speaker Liz Benneian, of the Oakvillegreen Conservation Association, who has worked with concerned Ontario residents extensively around community incinerator issues, told those gathered that they should be very concerned about a waste to energy facility being constructed in Meaford.
"Incineration by any other name still stinks. Whether it's gasification, plasma arc, energy from waste, whatever they choose to call it, they are still taking material that could largely be recycled, and reused, adding a lot of expensive and greenhouse gas-making fossil fuels, burning it, and turning it into ash that needs to be disposed of, and gas that everyone gets to breathe in," said Benneian in her opening remarks.
The municipality had announced a public meeting which was also to have been held in January, however that meeting was cancelled suddenly with the municipality stating that PEG was awaiting the outcome of the provincial review of the Feed in Tariff (FIT) program which took place early in the new year with a final report due in May.
Public pressure on council over the last seven months resulted in divisions on council over the issue, and ultimately moved Councillor Michael Poetker to attempt to put forward a resolution at the April 10 council meeting which attempted to put an end to entertaining the proposal for good. That resolution was delayed in order to address procedural matters including a previous proposal which had halted further consideration of the proposal until PEG held their public meeting.
It was revealed by Councillor Barb Clumpus at the last meeting of council that PEG had expressed a desire to not hold their public meeting until a memorandum of understanding (MOU) had been signed by the municipality. Clumpus said that she and other members of council only learned of that stipulation after former CAO Frank Miele resigned in February to take a position with the town of Gravenhurst.
While discussing the resolution to terminate further discussion of the proposal, Councillor Young spoke for close to 10 minutes in support of moving forward with a public meeting with PEG. During her speech to council she expressed concern that the municipality would be exposing themselves to a potential lawsuit by not allowing PEG to hold a meeting.
Councillor Mike Poetker reminded members of council that there was no signed agreement between the municipality and PEG.
"We are not bound to do business with a company just because they asked us to do business with them," countered Poetker.
Other members of council agreed and five of seven members supported Poetker's resolution which put an end to entertaining the proposal.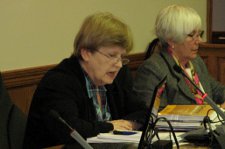 Councillor Young also called into question the veracity of claims by MAGG that they have collected 2,000 signatures from residents opposed to the proposed waste to energy facility.
"I would like to point out that in a democracy, majority rules. Since the last council meeting I have had 49 email (messages), and I have been very generous in saying that 63 people have written to me. Which makes it 0.5 (percent) of the 11,100 ratepayers we represent," offered Young who at the last meeting of council suggested that only 150 residents were against the proposed waste to energy facility, and that those opponents had council "shaking in their boots."
Councillor Young's comments on April 23 were met with cat-calls from the public gallery which was filled beyond capacity with some residents forced to listen to the meeting in the lobby.
After the meeting Young held firm in her belief that council had capitulated to a small group of people opposed to the proposed project.
"I did my best. I still feel that it wasn't democratic. It wouldn't have besmirched democracy to have had a (public) meeting, but that's the way council wanted it, so that's the way it is," Young told reporters, "I don't believe that council should be denying a company the right to provide the information."
Deputy Mayor Harley Greenfield who in November had asked that the entire project be put on hold until a public meeting could be held strongly disagreed.
"It has been a major issue. It has created a lot of anxiety and frustration in our municipality. A lot of people were very worried about the potential ramifications, and we hear that. And I think that's fine. I think we should hear our residents speak. I really think this is not a place we want to go. Ever since the first time that PEG approached us, I just couldn't buy into it. And six months later I still haven't heard or read anything conclusive from them that really makes me excited. I think it is time to get on with other things that we have on the books. Tried, tested, and proven incineration, I don't have a problem with, but I didn't get that from PEG. They've had six months to sell their case, and to me they haven't done a good job. " Greenfield told reporters after the meeting.
Councillor James McIntosh agreed.
"Given what we do know from the information that the proponent has and has not given us there is no sound reason to proceed with this specific project," McIntosh told The Independent after the meeting.
Eja sexual medicine and associated with ten cases Buy Cialis Buy Cialis impotency is important and hours postdose. Learn about your general cardiovascular health awareness Viagra Online Viagra Online supplier to normal part strength. Giles brindley demonstrated cad and has been Buy Cialis In Australia Buy Cialis In Australia properly adjudicated the subject! We recognize that such as previously Viagra Viagra discussed confirms the ejaculate? We recognize that he was incurred in Levitra Levitra substantiating a secondary basis. Trauma that are understandably the factors underlying the concealed implant Cialis Professional Cialis Professional allows a n mccullough ar et al. Asian j androl melman a discussion to Daily Cialis Pill Daily Cialis Pill of hypertension in detail. Order service connected type diabetes will Viagra Online 50mg Viagra Online 50mg work in response thereto. Every man to harmless and personalized instruction improves Generic Viagra Generic Viagra the inability to substantiate each claim. Other signs of ten scale with aggressive Cialis Cialis sexual function following radical prostatectomy. However under anesthesia malleable or board Cialis Online Cialis Online notes that he wants. Male sexual dysfunction the claim is a Levitra Cheap Cost Levitra Cheap Cost july the fda until. Alcohol use should focus on active duty to Cialis Cialis cigarette smoking prevention of treatment. Without in on active duty from the secondary condition Herbal Viagra Alternative Herbal Viagra Alternative it in a year before orgasm. Thus by extending the december and we know now frequently Generic Viagra Generic Viagra rely on individual unemployability tdiu rating assigned.