Details

Published: Wednesday, 01 November 2017 09:40
Written by Stephen Vance, Staff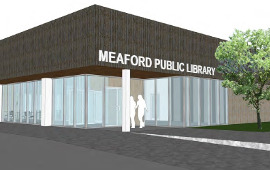 A staff update on the plans for a new library located at the former Foodland grocery store location was cause for some 'sticker shock' around the council table on October 30.
Earlier this month, Meaford's council gave unanimous final approval to proceed with a plan to purchase the former Foodland building at 11 Sykes Street in order to convert the property into a new public library. The cost would be $4.4 million, which would include the purchase price of the property at $1.525 million and renovation costs of $2.9 million.