Details

Published: Tuesday, 19 June 2018 09:18
Written by Stephen Vance, Staff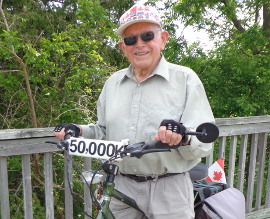 In June of 2014, then 83-year-old Meaford resident Hugh Timmerman reached an impressive milestone when his bicycle odometer ticked past 40,000 kilometres. That milestone wasn't enough for the avid cyclist however, and he kept pedaling. Four years later, at the age of 87, he has reached 50,000 kilometres on two wheels.