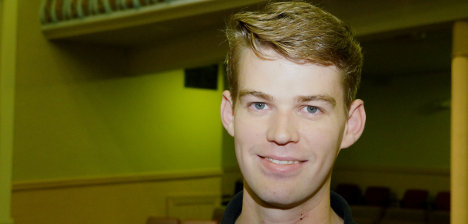 A nearly sold out Meaford Hall was the scene for this year's Dragons' Den Meaford competition, and a local brewer impressed the Dragons enough to walk away with more than $17,000 in cash and prizes.
Over $26,000 in cash and prizes were awarded by the dragons and sponsors at the event.
Spencer Wareham received $4,000 in cash from the Dragons. His business, Kilannan Brewing Company offers handcrafted ale and lager beers with a focus on quality ingredients and bold flavor.
For his first place finish, Spencer won a total of $15,525 in cash and prizes.
In its fourth year, the "Audience Choice" award once again generated a lot of excitement. This year the audience agreed with the Dragons, and Wareham won an additional $1,555 in cash and prizes to bring his total for the evening to $17,080.
Beer has found success at Dragons' Den Meaford in past years when local hop producer Nicholas Schaut won the competition and has since dramatically grown his hop farming operation.
As the second place winner, Daniel Caldwell took home $3,535 in cash and prizes. Daniel and his wife Christy own Sydenham Hill Farm Leather. Their focus is custom hand-made leather goods, priding themselves on quality customizations, and their ability to recycle and refurbish leather goods from times past.
"The Chamber of Commerce thanks all of our contestants, dragons, sponsors and the organizing committee for making this show a model of a local business initiative that creates real results for our local economy," said the Chamber in a press release.