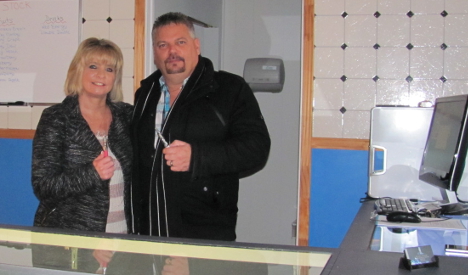 A small storefront on Sykes Street has drawn many curious looks through the recently covered windows, and several knocks at the door by passersby wondering what the new shop would have on offer.
On Monday December 15 the curtains were pulled aside, and the door was unlocked, and Meaford's only e-cigarette vaporizing supply store – E-Flav - is now open for business.
The opening comes at a time when the e-cigarette industry has found itself in the midst of potential enhanced regulation by the Ontario government, a move that has been both lauded and criticized in the media in recent weeks.
E-Flav owners Patrick and Yvonne agree that restricting sales to those over the age of 19 is a wise policy, so long as undue restrictions on adult users aren't implemented. The new business owners see the e-cig revolution as a benefit for smokers seeking an alternative to tobacco combustion for their nicotine fix.
E-cigarettes are electronic devices that atomize common food ingredients vegetable glycerin and propylene glycol to create an odourless vapour rather than the smoke created by cigarettes. The industry has quickly become a billion dollar business world-wide.
"We became involved in this business because we quit smoking and switched to e-cigs two years ago," Patrick told The Independent. "It's a product that we know works, because we've used it."
While smoking cessation is a common reason for people to take up vaporizing, the industry itself cannot make claims about being a safer alternative to smoking due to a lack of comprehensive study, however those in the industry point to two or three common ingredients included in e-cigarette liquids, when compared to the many toxins contained in cigarette smoke as reason enough to consider vaporizing.
Other benefits of e-cigarettes over traditional cigarettes are the lack of ash and cigarette butts to dispose of, the lack of odour, and significant cost savings when compared to the ever rising cost of a pack of cigarettes.
While Patrick and his wife Yvonne live in neighbouring Thornbury, they decided to open their new business – which will soon be followed by a clothing store in the storefront next door to E-Flav – in Meaford because they found retail space to be more affordable, and they see Meaford as being on the cusp of a growth spurt.
"We've had all kinds of traffic with people wanting to know what's going on before we even opened," said Patrick. "We wanted to come here because we know this town is going to be growing.
E-Flav is located on Sykes Street across from Foodland. A range of grand opening specials will be held over the coming week.