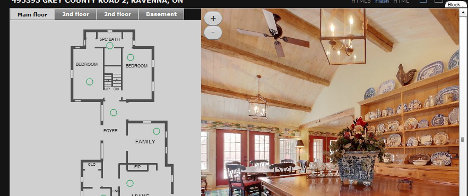 Local realtor Royal LePage Locations North Brokerage has become the first licensee of iGuide, a Canadian-based 3D technology that offers buyers an immersive home-viewing experience without ever setting foot in the home.
Developed by Kitchener, Ontario based Planitar Property Technologies, iGuide weaves together floor plans and 360° virtual views of a property through data captured on-site using a camera equipped with a special lens and laser scanner unit, along with software on a portable tablet. The end result is an easy-to-share link with floor plans, measurements, photo and video tours.
"Our brokerage is always looking for ways to improve the home buying and selling experience for our clients," says Desmond Von Teichman, owner and Broker of Record for Royal LePage Locations North. "The area we service is a largely discretionary marketplace and some buyers simply can't make it here to see the property firsthand. This technology allows us to take the virtual tour one step further with a truly interactive experience that is utterly convenient for clients' busy lifestyles."
Founded in 2013 by Kevin Klages and Alex Likholyot, Planitar has until now managed all projects end-to-end in-house in order to learn how to effectively service their marketplace. Royal LePage Locations North, with offices in Collingwood, The Blue Mountains, Creemore and Meaford, is the first licensee of the iGuide and is proud to be at the forefront of this technology.
The realtor says that iGuide has a great many applications for homebuyers, including renovating, decorating and even simple furniture placement. Royal LePage Locations North has already started to put the iGuide to use.