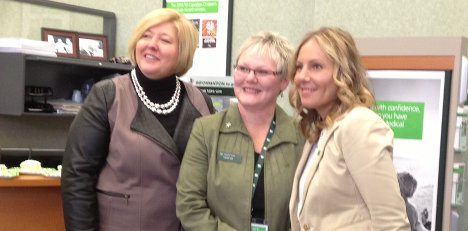 A staff member at TD Canada Trust in Meaford has received the bank's most prestigious employee award.  Isabelle Ridd, who has been behind the counter at TD Canada Trust in Meaford for 31-years was presented with the Vision in Action Award of Distinction on Monday January 12.  
It's the highest level of employee achievement globally within TD Bank Group.  Ridd is one of only 90 recipients from the bank's total employment of 85-thousand.  Vice-President for Georgian Trails District, Tara Clarke, and Sr. Vice-President Ontario North and East Region, Jane Duchscher, cited Ridd for her outstanding relationships with customers and for mentoring cancer patients.  Family, friends and staff alumni were on hand at the branch for the presentation.
According to TD Bank Group President Ed Clark, "Being a Vision in Action Award recipient is a very big deal. We set the bar very high and we reward for results. So our award recipients aren't just the best of an OK bunch of people. They're the best of an outstanding bunch of people."