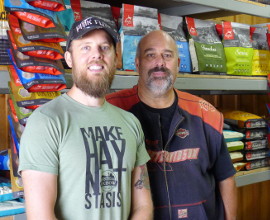 For decades small rural towns have seen businesses, industry, and even its people pull up stakes to seek greener pastures in larger urban centres, but every now and then it works the other way, as has been the case with Lorne Forder and his son Brandon, who have moved their pet supply business from Oakville, where they operated for a quarter century, to Meaford.
Canadian Pet Connection was founded by Lorne in 1993. The company, which began with a single retail location, has specialized in healthy foods and supplies for pets. The company grew to include a second retail location and a Canada-wide distribution and online sales operation. During their 25 years in Oakville, the Forders and their company built strong relationships in the community and with local animal shelters.
The company would likely still be operating in Oakville if not for an invitation by a friend to visit Meaford over Thanksgiving nearly a decade ago.
"We were invited by our friends to come to Meaford for Thanksgiving nine years ago," Lorne told The Independent. "I said, Meaford? Where is Meaford?"
During that visit Lorne and his wife arrived in Meaford on a Friday, went for a walk, fell in love with a house, and made an offer that Sunday.
"We went home to Oakville to pack up and sell our house, and moved to Meaford 60 days later," Lorne recalls.
Over the past nine years Lorne commuted to Oakville to run his business, while his son, who lived in Hamilton with his young family, had a shorter commute.
"I have been commuting to Oakville every week for the last nine years. Three days in Oakville, and four days in Meaford. I've put close to 300,000 kilometres on my truck in just a few years. I became weary of the commute and tired of the hours spent on the road and away from home," Lorne explained. "I spoke with my son, Brandon, about relocating our online and distribution business to Meaford. I wasn't sure what to expect when I spoke with him but he and his family were all for the move."
For Lorne's son Brandon, who had his beginnings helping out the family business as a child before growing into a partner in the operation, the opportunity to move to Meaford was an opportunity to not be missed. Brandon and his wife Angela, along with their two daughters, had enjoyed their visits to see Lorne in Meaford, and he and his wife had dreamed of creating a life here.
"It may have seemed crazy to some to leave everything we've worked hard to build, just to start our retail business all over again. But to us, starting over again in the town of Meaford was worth it," Brandon explained.
Brandon and his family sold their house in Hamilton and moved to Meaford in April. Lorne and Brandon then found space to operate their distribution business in the building that also houses the Meaford Factory Outlet on Cook Street.
While the focus of their business is distribution and online sales of pet foods and supplies, the father and son duo is also opening a small warehouse retail space.
"We have a few thousand items on our online store with plans to build to 40,000 items. We offer most quality pet foods, human grade products. A full slate of treats, toys, training equipment, and other supplies. We cater to all pet lovers. Dog, cat, small pocket pets, ferrets, mini pigs, birds, and reptiles," Lorne explained. "The Meaford store will offer a few lines of premium dog and cat foods, treats, litter, and other supplies to start. If the demand grows, we will expand accordingly. We will be offering warehouse pricing, a repeat buyer program, in-store pick up for online orders, and free delivery in the Meaford and surrounding area."
Canadian Pet Connection is located at 278 Cook Street, Unit 8, (beside the Meaford Factory Outlet), and is scheduled to open to the public on Saturday, September 30. You can visit their website here: www.canadianpetconnection.com