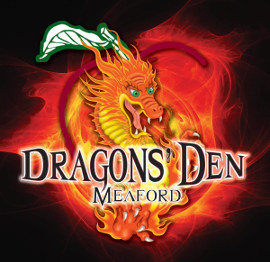 What do a Queen's Golden Jubilee medal winner, a president, a pharmacist, a chief hydration officer, and a banking executive all have in common? Well, one thing at least - they're the Official Dragons of the 9th Annual Dragons' Den Meaford.
The Meaford Chamber of Commerce has announced the Dragons who will participate in this year's edition of Dragons' Den Meaford, which will take place on Wednesday, October 25, at Meaford Hall.
Here are this year's Dragons:
Cindy Gretton - President of E&H Property Management. Established in 1986 by her parents, Cindy assumed the role of president in 2005 and has now doubled the number of portfolios being managed. Cindy takes great pride in her family-run business and is happy to have her daughter and daughter-in-law as part-owners of the company. Cindy believes a Good Base is the building block for any business and its success. Cindy is back for her second stint as an esteemed Dragon, having participated last year as well. Welcome back, Cindy!
Ross Kenter - Queen's Golden Jubilee medal winner and GM of Bayshore Broadcasting's eight radio stations in south-central Ontario, Ross is a highly regarded business person in the community. Past president of the Ontario Association of Broadcasters, past chair of Community Foundation Grey Bruce, a Lifetime Achievement Award: the Radio-Television News Directors Associate of Canada, and a voice you'd recognize in an instant barely begins to describe Ross and his community spirit and accomplishments within our area. A true local gem, Ross lives in Meaford with his wife Ruth Ann and this is his first time as a Dragon. Welcome, Ross!
Rick Lorenz - Pharmacist and founder of Meaford Pharmacy, Rick is an active Rotarian and a board member of the Meaford Chamber of Commerce. Rick's management philosophy is to lead by example, build strong relationships with clients and the community, and to always be on the lookout for new technologies to provide a competitive edge. Rick conducts HIV research in rural Uganda, and has had his most recent paper, Caregivers' Attitudes towards HIV Testing and Disclosure of HIV Status to At-Risk Children in Rural Uganda, published in the peer-reviewed journal PLOS-ONE. This is Rick's first year of being a Dragon. Welcome, Rick!
Darryl Hindle - Chief Hydration Officer of Quench Buggy, Darryl is a previous Dragons' Den contestant and winner of the Audience Choice Award. Darryl took his idea that was pitched to the Dragons' and now runs an extremely successful business within the Municipality of Meaford as well as offering his services worldwide. Darryl is always looking for ways to improve upon products and processes, and that has helped Quench Buggy evolve into what it is today. Darryl has a background in Mechanical Engineering, and worked with various automotive-related companies in positions such as industrial engineer, applications engineer, and launch facilitator. Darryl then decided to move on to work in the family business in customer service, which is where the idea for Quench Buggy was hatched. We are so pleased to have a former contestant join us this year as a Dragon and look forward to his feedback for this year's contestants. Welcome, Darryl!
Alex Hector- Alex is a retired banking executive, having spent much of his career in senior commercial banking positions with Bank of Montreal. In the late 1990s he worked as regional manager for BMO in the Grey-Bruce region. His career took him to most regions of Canada with accountabilities from the Maritimes to British Columbia. A Meaford resident since 1998, Alex is active in the community as a Board member of the Residential Hospice of Grey-Bruce, currently constructing Chapman House Hospice, as well as a Board member of the recently formed Bluewater Angel Investor Group. Welcome, Alex!
"With these Dragons at the table the show is sure to be packed with insight, expertise, motivation, and certainly a bit of fun and humour; the show is definitely not to be missed!" said the Chamber.
Join Tyler Boyle and Dean Hollins as they host the 9th Annual Dragons' Den on October 25 at 7:30 p.m. at Meaford Hall. Watch as the contestants pitch their business plans to the Dragons for the chance to walk away with upwards of $30,000 in cash and in-kind prizes for their business start-up or expansion. Tickets are $25 plus HST, and are available at the Meaford Hall box office, 519-538-0463 or .www.meafordhall.ca
For more details about the contestants and this year's Dragons please contact the Meaford Chamber of Commerce, 519-538-1640.