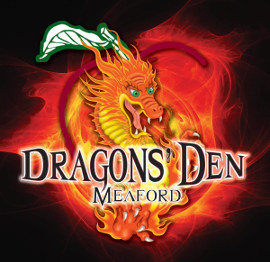 The Meaford Chamber of Commerce has announced that the contestants for Dragons' Den 2017 have been finalized.
"Thank you to everyone who prepared a Business Plan and applied to be a contestant. Without the willingness of our contestants to put themselves and their business ideas out there, we wouldn't have an event! Thank you to everyone for their hard work and allowing us to be a part of your entrepreneurial journey, we wish you all the best of luck!" said the Chamber.
The contestants for the 2017 edition of Dragons' Den Meaford are:
Mark Skinner-Windswept Cider

Brad & Nadia Mear- The Meaford Artisan Hub

Marie-Catherine Marsot-Georgian Bay Fauxmagerie

Paul Bishop-Ride On Bikes

MOJO Meal Kits- Rheanna Kish, Andrea Greyerbiehl & Bryn Honeywood Burk
This year's contestants offer a little bit of everything. With focuses on craft cider, a "hub" for artists, an artisanal dairy-free cheesery, leisure cyclists and a meal kit delivery service, these businesses are in heavy competition with one another. With a mix like this, it's anyone's guess at who could walk away victorious.
The event will once again feature the "Audience Choice" Award this year, which will be awarded to the contestant who receives the most votes from the audience during the event. Five dollars from every ticket sold will be put into a prize fund to be awarded at the end of the evening. Here's your chance to become even more involved in this very popular event by having your say, and giving our contestants that little extra boost! Voting will take place at intermission and the winner will be announced on stage at the end of the night.
Don't miss these talented and tenacious entrepreneurs pitch their ideas to the Dragon's on October 25th at 7:30pm at Meaford Hall. They're vying for a chance to win upwards of $20,000.00 in cash and in-kind prizes.
For more details about the contestants and this year's Dragon's please contact the Meaford Chamber of Commerce 519.538.1640.
Tickets are $25.00 + HST and are available at the Meaford Hall Box Office, by calling 519.538.0463 or www.meafordhall.ca.