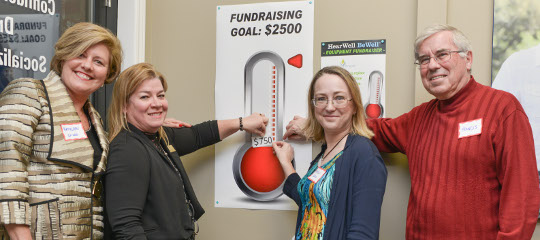 The Hear Well Be Well hearing clinic in the Municipality of Meaford announced a strong start to its three-month campaign to raise funds for the Meaford Hospital's new anaesthetic machine.
The Sykes Street clinic has pledged $50 for every hearing test for adults ages 50 and over during the months of February, March, and April.
The hearing tests are free to the customer, and the hearing aid devices range in price depending on the level of technology required to meet the client's needs. Hearing aid devices from registered companies like Hear Well Be Well are covered under Ontario's Assistive Devices Program for $500 per ear.
Hear Well Be Well hosted the monthly Chamber of Commerce After Five on February 15. Co-owner Kathleen Tiede announced to chamber members that $750 had been raised during the first two weeks of the campaign.
The campaign to raise funds to cover the $250,000 cost of the new anaesthetic machine has been a success, according to Jen Wright, Executive Director of the Meaford Hospital Foundation and Dr. Natalie Sauriol, the hospital's chief of staff.
"The Christmas drive raised $240,000. The machine has been ordered," Wright said. "With Hear Well Be Well's pledge, we are confident that we will cap our fundraising by the end of April."
The foundation's Christmas drive was highly successful, according to Dr. Sauriol. "An anaesthetic machine is something tangible that donors relate to," she said.
Giving back to the communities in which they do business has always been important to Kathleen and her husband, instrument specialist John Tiede, who together operate 15 hearing clinics from London, throughout southwestern Ontario, and as far north as Huntsville. "Hearing devices are doctor-prescribed in Ontario. Our regional education leader Nancy Robinson works closely with medical professionals. The hospital foundation goals align well with our goal to promote good health care."
The Hear Well Be Well clinic in Meaford is staffed by Client Community Representative Shannon-Lee Wilke, hearing specialists Mikela Broadhead, and student Sharon White, who is completing a three-month work placement.
Photo: Hear Well Be Well hearing clinic in Meaford pledges to donate $50 for each hearing test during the months of February, March, and April to the Meaford Hospital Foundation's fundraiser for a new anaesthetic machine for the Meaford Hospital. L-R: Hear Well Be Well co-owner Kathleen Tiede, Meaford Hospital Foundation Executive Director Jen Wright, Meaford Hospital Chief of Staff Dr. Natalie Sauriol, and clinic customer Francis Richardson.