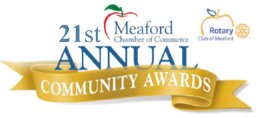 The Meaford Chamber of Commerce has announced the nominees for this year's Community Awards. This year the Chamber took in over 35 nominations recognizing people/groups/businesses across their eight award categories.
Businesses nominated are: The Frauxmagerie, The Kitchen, Bayside Chrysler, Ryan's Repair, Canadian Pet Connection, Gardhouse Financial Counsel, Sail Restaurant and Catering Co., Meaford Pharmacy, Stuff to Read, The Ear Clinic, To The Moon Bakery & Café, Meaford Branch TD Bank, Johnny B's Automotive and Car Care, The Shoe Tree, This N That Vendors Market, Windsong Horse & Carriage Ranch and Twin Creek Farms
Individuals nominated are: Lesley Kenyon, Mary Bryant, Dan White, Anthony Penner, Paul Vickers, Brian Tulloch, Ed Ormsby, and Janelle Shakell.
Service Groups nominated are: Beautiful Joe Heritage Society, Tom Thomson Trail Group, Christ Church Anglican Outreach
The awards will be handed out March 30th at the 21st Annual Community Awards Gala event that is once again being help at the Meaford Community Centre. Tickets for the event are available from the Chamber office at 13 Nelson Street West.