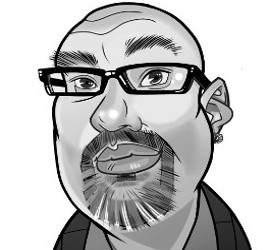 It's that time of year again. Downtown storefront windows will have been covered with red plastic during the week while shop owners and their staff create their displays for the annual BIA Downtown Christmas Window Unveiling event, which will once again be partnered with the Kinsmen Club of Meaford's annual Santa Claus Parade to create a night of holiday cheer.
My friends are sometimes confused by the fact that though I don't celebrate Christmas myself, the annual window unveiling event is my favourite of the year. While I might not celebrate Christmas, I do celebrate community, and there is no finer example of community than when the main street is closed, the fire barrels are hauled out, and our friends and neighbours fill the street with big smiles and warm hearts.
This month it has been 13 years since I moved to Meaford, and the Window Unveiling was the first event I attended in this community and I was immediately smitten with the event. My children, who at the time were just two and six years old very much enjoyed the Window Unveiling, but what they loved even more was that the Santa Claus parade was held at night, something they hadn't experienced before. Back in those days the Window Unveiling and the Santa Claus parade were held on different dates, but in recent years they have been combined into one event, and I think that was a wise choice by organizers as the two events complement each other so perfectly.
This year's festivities will take place on Saturday, December 1, and as in past years, there will be plenty of activities and fun for young and old beginning with the window unveiling and lighting of the tree outside Meaford Hall at 6 p.m. The theme for this year's BIA Window Unveiling is 'A Western Christmas', I suspect inspired by this year's Scarecrow Invasion's western theme.
The window unveiling will be followed by the parade, which will begin working its way to downtown area at 7 p.m.
Once Santa has arrived downtown, he will head into Rice's Home Hardware, where he will greet youngsters and review wish lists.
As has become tradition, Sykes Street will be filled with street performers and a wide range of activities throughout the evening.
Not only are the Window Unveiling and Santa Claus parade fine community events, they also kick off the holiday shopping season which is a crucial time for many of our local businesses who these days compete not only with the shop down the street, but with the entire world thanks to online shopping. I don't tout shopping local as often as I perhaps should (it has almost become a lost cause), and I realize that shopping online is quick and easy, and sometimes it is cheaper, but if I could make one Christmas wish for our local shop owners it would be that Meaford folks at least check the local shops before ordering online. You never know, Stuff to Read could very well have that book you were looking to order on Amazon, or Stedman's could stock that crock pot you want to get for someone special. These days it is not always practical or possible to strictly shop locally, but at the very least we could check local first before spending our hard-earned dollars outside this community. Just like community newspapers, if the locals don't support them, we risk losing our local shops forever.
Those planning to attend are reminded that the Golden Town Outreach Food Bank will once again be collecting donations, so bring along some non-perishable food products to help those in need this holiday season.
Naturally, for the success of any outdoor event, particularly one held once snow has begun to invade our part of the world, weather is an important consideration. If the current forecast holds (do they ever?) we should be looking at a temperature hovering around zero with the chance of some snow or rain, so it looks like the weather will cooperate.
So no excuses – get out on Saturday, say hello to your friends and neighbours, have a cup of hot chocolate, and take in the wonderful window displays that will be unveiled by our creative downtown shop owners.
+ 19
+ 3