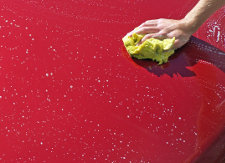 While many students are beginning to anticipate the final day of the school year, and the beginning of summer vacation, grade eight students at Meaford Community School have a tradition to uphold before setting their eyes on summer vacation - preparing for their trip to the nation's capital in June.
Like many elementary schools, MCS has a tradition of organizing a year end trip for the grade eight students who after graduating will head to high school in September. And what better way to celebrate enduring nine years of elementary school than taking a trip to Ottawa?
This Saturday many of the grade eight students will be washing cars, and selling hot dogs to raise money to help fund the trip.
CarQuest Meaford will host the car wash and barbeque event from 9 am to 12:30 on Saturday May 9.
The students will wash your car for $5, and for an additional $5 they will also give it a vacuum. While you're waiting you can enjoy a hot dog, all in support of the students' trip to Canada's capital.
CarQuest Meaford is located at 206020 Hwy 26.