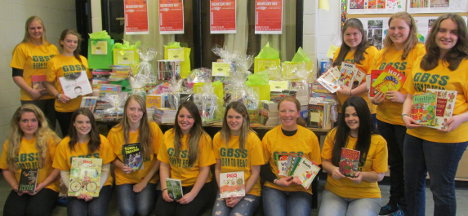 GBSS Born to Read Literacy Group will host 'Gotta Keep Reading', a free Literacy Event on May 20 at Meaford Hall with guest author/illustrator Werner Zimmerman.
The event encourages children of all ages to get excited about reading to enrich their lives and to create a lifelong love of reading.
Over 450 children from SVE, MCS, and BVCS will get the chance to come to Meaford Hall for a morning or afternoon interactive presentation with Werner Zimmerman.
Zimmerman has written and/or illustrated over seventeen books. He immigrated to Canada when he was quite young with his family and very early on decided that he would be an artist. Twice nominated for the Governor General's award and winner of the Mr. Christie Book Award along with author Jean Little for Pippin the Christmas Pig, he most recently was awarded the 2011 CBA Libris for Children's Picture Book of the Year with author Helaine Becker for Porcupine in a Pine Tree.
In keeping with the theme of 'Gotta Keep Reading', every student will go home with a brand new book purchased by the Born to Read Group.  The event at Meaford Hall is free of charge thanks to financial support from the Meaford Hall & Culture Foundation.

Students, families and community members are invited to return to the Hall from 5-7 pm for a fun filled open house. The open house features free literacy activities and resources from a variety of community partners, a meet and greet with Zimmerman, a visit from Franklin the Turtle and a 'Me to We' book exchange in the Terrace Room. Children, teens, and youth are invited to donate their gently read books and, in exchange, to take new ones home. Every child or teen that attends the open house will be given a free ballot to enter into any one of the many gift basket draws of book sets and collections. Over 200 books have been purchased by Born to Read and our Community Reading Buddies to give away at the open house.
Both SVE and MCS elementary schools have created a taped 'Gotta Keep Reading' flash mob which will be streamed on the screen in the lobby of Meaford Hall.
"The goal of the event is to encourage all children to read as much and as often as possible to enrich all aspects of their lives. Parents are encouraged to read to and with preschool children to create a lifelong love of reading and learning. The event is made possible through community donations, GBSS Born to Read fundraising, and partnerships with the Meaford Public Library and Meaford Hall. Community members and partners of all ages are invited to the event to illustrate the lifelong benefits of reading!" said GBSS teacher and Born to Read organizer Amy Teed-Acres.