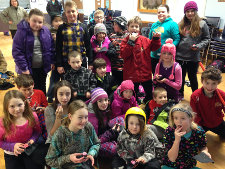 Students from MCS and SVE represented Meaford schools at two junior bonspiels recently.
On Saturday February 28, Emily Pierce, Alex McNally, Chloe Almas, Cameron Lewis, Colin Pierce and Shelby Almas competed in the Markdale Junior Invitation Bonspiel. They played two six-end games. Emily Pierce skipped the team for their first game, but lost against Chesley.
Meanwhile, their two extra players were picked up by other teams who had vacancies for the day. Alex McNally skipped Bluewater to a 6-1 loss and Colin Pierce played second for another Bluewater team but lost 5-2. Players reorganized for the second game to find Emily skipping Bluewater against Alex with the Meaford crew. They played a great game with the outcome 4-3 for Meaford. Cameron Lewis played with the other Bluewater team but also lost. The Meaford team ended the day tied for 5th.
On Friday March 13, the same six curlers were joined by Ally Pendleton, Marielle Lachey and Madison Saunders to compete in the Beavercrest Elementary School Bonspiel. Again they played two six-end games. With two full teams representing Meaford there was lots of action to watch all day. The team of Alex McNally, Colin Pierce, Madison Saunders and Cameron Lewis played Spruce Ridge A in their first game. It was a back and forth battle but with two perfect draws by their skip, Meaford was victorious 4-3. Their second game was also the closest game on the ice but, despite a three-ender, Alex was a little heavy on a draw that would have led to a win. Instead they ended the day in a 5-2 loss to Spruce Ridge C. The team was 4th overall for the 9 o'clock draw.
Emily Pierce skipped the 10:30 team of Chloe Almas, Shelby Almas and Marielle Lachey. The girls played well in their first game. After six ends they were tied with Beavercrest B. Emily was just a bit too heavy with her draw to the button and they lost. They played Spruce Ridge in their second game. Despite a valiant effort they lost 5-2. The team ended up 7th place for the day.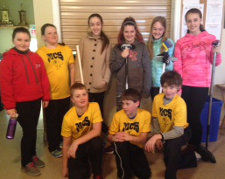 These bonspiels marked the end of a successful curling season for 26 local Junior Curlers. A big thank you goes out to the Meaford Curling Club and especially the ice maker, Ed Ormsby for their support of this program. The MCC allowed many young people to be introduced to the sport of curling through the Rocks and Rings program that visited Meaford Community and St.Vincent-Euphrasia Elementary Schools. Junior Curlers then had an opportunity to learn strategy and develop on- ice skills on Monday afternoons at our local club.
A special thanks was extended to the Meaford Curling club for sponsoring all of these junior curlers and to volunteer helpers Tennile Carbert, Mary-Ann Wark and Terry Crosskill. Their coaches, Jennifer Pearson and Tracy McNally, are especially proud of this great group of first-time bonspielers.