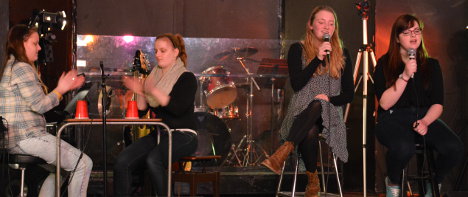 This Friday, March 27, dozens of teen musicians will compete together in bands as a part of the 'Battle of the Bands' competition which will be held in the GBSS Auditorium.
This will mark the second time that GBSS has held this competition in recent years. The event mirrors the successful GBSS Idol series in many ways, but all entries for this competition must consist of a minimum of two members and contain multiple instruments.
The other major difference is that this competition features a panel of expert judges who will critique each act after they perform, much like a judging panel on a television talent show. Then after all the bands have performed the panel will decide who the winners are.
The judging panel includes local fixture Bambalamb Kidd, who also judged at the previous competition in 2012, as well as four others heavily involved in the music scene. They will be awarding the titles of best vocalist, best pianist, best guitarist, best bassist, best drummer, and the overall first, second and third rated bands.
New this time is an added category to be won; the people's choice. Audience members will have the opportunity to decide who they viewed as the most impressive act. This will ideally allow for the trained musicians, and those more focused on energy and spirit, to have a say. The winner of each category will receive a life-sized cheque, with a varying amount of prize money depending on the category.
The previous competition in 2012 featured 12 bands, and was an evening of exciting performances. The winning band, 'Ms. Oswald's Jive Turkeys' was formed for the sole purpose of the competition, and that helped them put lots of energy into their set. They performed entertaining and powerful performances to "Somebody to Love" by Queen, and "Lucy in the Sky with Diamonds" by The Beatles.
Lead singer of the band, Bethany Jones, highly enjoyed everything about the experience. "I loved how it gave my friends and I the opportunity to channel and express our creativity in a really fun way," she recalls, "We had 12 members in our band, and it was such a great experience to have all these talented people working together."
Having the judges participate was a particularly special experience for her. "I think it inspired confidence in ourselves and our musical and creative abilities," Jones remembers. "I know that I was really humbled and amazed that they enjoyed my singing." She even can remember some specific comments, about the band having "the it-factor", which shows the impact of the judge's feedback to the participants.
Another performer who participated in the aforementioned 2012 instalment was Sara Harvey, who at that time was in Grade 9, and hadn't had much singing experience. Since then she has gone on to be a finalist in last year's Idol competition, and will be a part of two bands this year.
"I was so excited to win best vocalist," Harvey recalls of the prize she won three years ago, "I would not even have competed had it not been for the fact that my sister was right next to me the entire time. I feel that it was that moment... that really pushed me into discovering the performance side of life."
She feels that this competition differs from others because, "The atmosphere surrounding the show doesn't feel stressful, or competitive," she says, "[all] performers work together to display the incredible talent GBSS has to offer, and put on a wickedly entertaining show."
At this time, 14 bands are scheduled to perform on Friday. In the interest of time, each band will perform only one song. All grades are represented throughout the bands, and they feature quite a mixture of individuals. Instruments featured will include the conventional drums and guitar, and some less traditional choices such as mallet percussion, the ukulele, assorted wind instruments, and cups used as percussion.
The event will begin at 7p.m. and entry only costs $5 per person. All community members are welcome, and encouraged to attend.