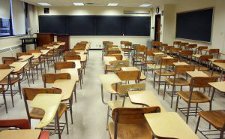 Suspension notices have gone out for 1,762 students across Grey Bruce. Issued by public health, the notices require parents to provide proof of immunization for their child. If proof of immunization or a valid philosophical or medical exemption is not provided, students may be suspended for a period of 20 school days.
Under the Immunization of School Pupils Act (ISPA), all elementary and secondary students require proof of immunization against measles, mumps, rubella, tetanus, diphtheria, polio and new for the 2014/15 school year pertussis, varicella (chicken pox) and meningococcal disease.
"All students must be up-to-date with immunizations in order to provide a safe school environment for everyone and reduce the risk of vaccine-preventable disease outbreaks," says Grey Bruce Medical Officer of Health, Dr. Hazel Lynn.
This is a large number of suspension notices compared with previous years. There were 698 suspension orders in 2012/13 school year.  No notices were issued in the 2013/14 school year as student immunization records were being transferred to the new province-wide Panorama system. Additionally, the requirements for pertussis, varicella and meningococcal immunization are new to the schedule this year.
Parents are responsible for reporting their child's immunization records to their local public health unit. Parents who receive notices should submit their child's immunization information to the Grey Bruce Health Unit by phone, fax or email prior to the first day of suspension, April 20, 2015. 
Phone: 519-376-9420/ 1-800-263-3456 – switchboard will direct to nurse on-call
Email: immunization@publichealthgreybruce.on.ca
Fax: 519-376-7782
Link on our website: http://www.publichealthgreybruce.on.ca/Your-Health/Immunization/Immunization-Records-and-Reporting
Parents can call their health care provider or public health to obtain the required immunizations or exemption forms.   
For further information, call public health at 519-376-9420 or 1-800-263-3456 or visit our website at www.publichealthgreybruce.on.ca.