Editor,
The Easy Riders have visited Meaford for the second year in a row. More than 40 riders from the Kitchener bicycle group booked the entire Hilltop Motel and a corner of the Memorial Park Campground from August 15- 18.
They had a wonderful time with better weather this year. Bike routes were mapped out well in advance from 20-70 km for three days. The oldest rider was a young 75! The day ended with campfires and singing.
The Riders would like to come back again next year (usually they move every couple of years). Meaford offered them a variety of cycling from the Georgian Trail to the Collingwood hills. They found the drivers all courteous and our community was so kind and welcoming to them.
They were hungry folks and were happy to see Megan from The Kitchen who catered one night at Kin Hall… many fine compliments. Thanks also to Greg Thacker of Memorial Park who was quick to look after the group.
Mostly they enjoyed their holiday here because we are a kind and gentle community. A great reason to live here.
Marlene O'Connor, Meaford
A local friend of the Easy Riders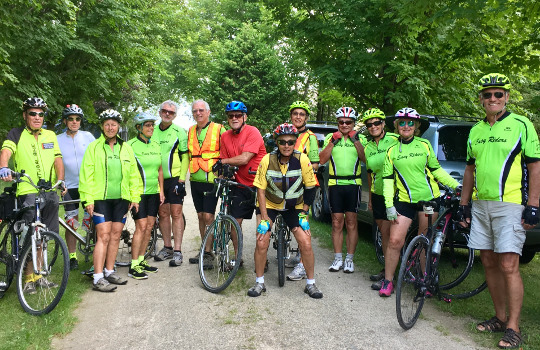 + 16
+ 0