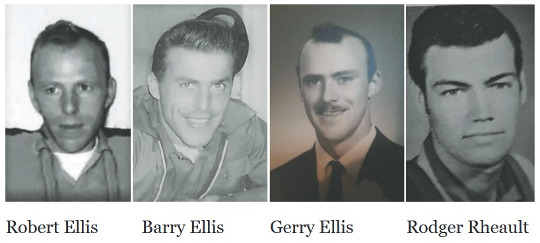 Editor,
December 24, 2018 marks the 50th anniversary of a tragic accident that took the lives of four young men, three of whom were brothers from Rocklyn. What started as a quick sight-seeing flight north of Port Arthur, Ontario (now Thunder Bay) ended in a nightmare for four families.
When the plane failed to return to the airport that afternoon, the search began. Many air searches were conducted by Air, Search and Rescue, Trenton Air Force, and ground searches were made by family and friends. Despite this, the crash site was not discovered for twenty-two months and in the end was found by a group of local hunters.
This tragedy not only affected the Ellis and Rheault families, it shook the communities of Port Arthur, Rocklyn, and Meaford as the men had touched the lives of so many in the short time they were with us.
Lost to us that day were:
Robert Ellis, 37, left behind his wife and seven children,
Barry Ellis, 26, left behind his wife and three children,
Gerry Ellis, 21, left behind his wife and son,
Rodger Rheault, 19, left behind his parents, sister, and brother
I am the son of Barry Ellis. I was 2-1/2 years old when I lost my father. Over the years, the story of the crash became like folklore to me. I needed something that happened so long ago to feel more real to me. The loss of these men had such a great impact on our lives and I needed some sort of closure for all of us left behind. Especially for those of us who were too young to remember and process the loss when it happened. I needed to visit the site for myself, but over the years, with changing terrain, the crash site could not be found. There were not many facts to go on, just the faded memories and stories as told by family members, friends, and hunters who had once been there. I needed to begin my own journey to find this place again and to find my own answers.
I walked many miles alongside family and friends with only these stories as my guide. Finally, in October of 1996, with the help from a friend and a hunter from down east, we found the site once again. It was overwhelming to say the least. It was hard to imagine the plane as it once had been. Pieces and parts had been removed years earlier but some were still there. Through the years, trees had fallen over the wreckage and underneath one of these I found the piece of the plane that Rodger's father had made into a plaque featuring everyone's names and ages on it.
My journey had taken many years and wouldn't have been possible without the support of my family and friends. Support from acquaintances and strangers who became friends. Over the last few years, with the help of two very special people, the site has now been designated as a monument site. It is my hope it will never be lost to us again, and though it is still painful for our families, I like to think of it now as a place to remember the lives of these men and to pay tribute to their memory. Rodger's brother Rob summed it up for me when he told me, "Our loved ones live on by us speaking their names and remembering them". He could not be more right.
They are "GONE BUT NOT FORGOTTEN".
Randy Ellis, Thunder Bay
+ 50
+ 1