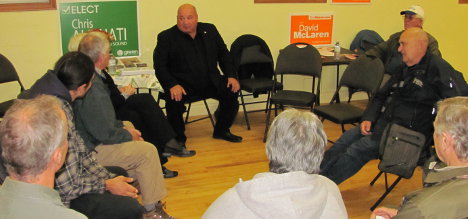 A small but curious audience of roughly 40 Meaford residents attended a candidate meeting hosted buy the Meaford Chamber of Commerce at Woodford Hall on Monday October 5.
Bruce-Grey-Owen Sound candidates from all four of the major parties attended the meeting which provided a different take on a candidate meeting; rather than the candidates debating each other from the stage, after initial introductions, the audience broke into four groups, and each candidate circulated from one group to another to answer questions and engage in discussions with voters.
The format, while noisy, provided those that attended an up close and personal opportunity to raise issues, and have their questions answered. Topics covered ranged from health care to income splitting, to some tough questions for incumbent candidate, Larry Miller, about the Conservative government's support for the Trans-Pacific Partnership (TPP) trade deal which has been negotiated out of the public eye, and has caused concern for many industries in Canada, particularly the agricultural sector, who worry about how the trade deal will impact them.
In the October 2 print edition of The Meaford Independent, we asked each of the candidates why our readers should vote for them. Be sure to pick up a copy of our print paper for the two page special feature that includes the answers from each of the candidates.
The federal election will be held on Monday, October 19.