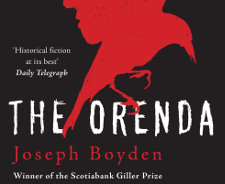 Visceral, brutal, one-sided and fascinating are all words used to describe this book.
Boyden takes us through a 16-year period of the Huron Nation. He describes the culture, mores and uniqueness of this great nation. He also weaves in the influences both good and bad of the French (via Champlain), the Jesuits as facilitated by the character Crow, and the Iroquois.
Boyden, a Canadian, grew up in Willowdale, in the north of Toronto. His father was a noted doctor who was highly regarded for his work in WWII. His mother was left a widow with eight children to raise. Boyden attended St Jean de Brebeuf School in Willowdale and had a somewhat troubled youth.
Many found the brutality of this novel difficult to read, however Boyden uses it in the context of history, not gratuitously. It is very graphic.
The main characters include:
Bird, a Huron elder and one of its great battle tacticians and statesmen.

Snow Falls, a young Iroquois girl child captured by Bird after the killing of her entire family. She is adopted by him to replace his daughter killed with his family at the hands of the Iroquois.

Father Christophe, a Jesuit priest and missionary convinced that his calling is to bring Christ to these "savages". The Huron refer to him as "Crow" because of his long black flapping robe and his constant bowing.
Boyden uses the technique of describing events from several points of view. While this can sometimes be tedious, in this novel it helps us to understand the wildly divergent perspectives.
The group found this eminently readable. Many were upset by the brutality, and one could not read it for that reason. We all loved the fact that it happened here. We are determined to search out the historical locales of the Wendake (the Hurons). All would read other books by Boyden.
JANUARY READ: The Massey Murders by Charlotte Gray
FOML:
Need to make space for all those Christmas gifts? How about cleaning out your books. The FMOL would love to add your books to our collection at the Net Shed. They need to be free of mold, not encyclopedias, textbooks or periodicals.
As the Net Shed will not open until the end of May, please contact the Friends via their email to arrange pickup or drop-off.
Thank you in advance.
The Friends of the Meaford Library (FOML) email is: friendsofmeafordlibrary@gmail.com or speak to the Library staff who will contact us.
Wishing you a Happy New Year of reading gently used books!