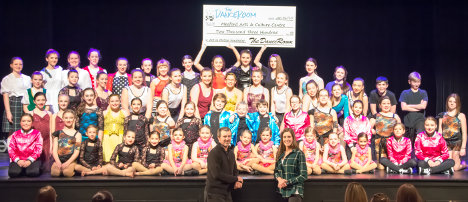 The DanceRoom's Competitive Highland and Mainstream teams debuted their 2015 competitive numbers at The Meaford Hall Saturday January 31st. 
The event was held in support of The Meaford Hall, and The DanceRoom's owner, Jennifer Campbell, was thrilled to present a cheque to The Meaford Hall for $2300.00.
For the past seven years, the DanceRoom has held their annual Recital at this beautiful facility and decided to show their appreciation with this first annual event.
Over 70 dancers wowed the audience with a variety of styles including tap, jazz, modern, acrobatics, musical theatre and highland.
Jennifer hopes that next year's event will raise even more money and praises the professional and friendly staff at The Meaford Hall.