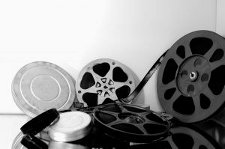 The Municipality of Meaford, in collaboration with BruceGreySimcoe Tourism (RTO7) are filming in Meaford! The video for "A cultured night out" will be filmed Thursday, February 19 prior to the 'Thursday Flick' My Old Lady.
The video will be promoted through www.meaford.ca and shared with the world through initiative partners at BruceGreySimcoe Tourism and others including Grey County, Bruce County, Georgian Triangle Tourism Association, and Blue Mountain.
"If a picture is worth a 1,000 words a video is worth a million. With the increasing use of social media we wanted to share one of the many things people can do in our municipality with the world," says Stephen Murray, Economic Development Officer for the Municipality of Meaford.
Just prior to the film, Murray will lead a few staged shots for the videographer and explain the purpose of the film. Then following the film, moviegoers are welcome to stay and enjoy a beverage and view the current Gallery exhibition, Undeclared: by artist Brooke Taylor.