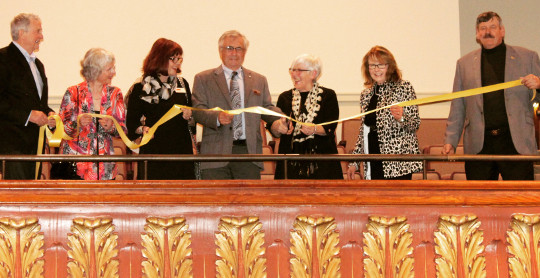 The renovated Meaford Hall Balcony was unveiled at a special ceremony on Saturday May 6, with Mayor Clumpus, members of Council, Meaford Hall & Culture Foundation board members, and donors in attendance.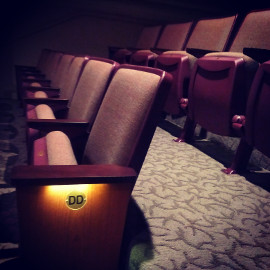 On July 22, 2016 the municipality announced that it had been awarded a grant of $205,000 from The Department of Canadian Heritage to use towards renovations to the balcony in the Meaford Hall Opera House. The full cost of the renovation came in at $410,000, with $60,000 approved as part of the 2017 municipal capital budget, and the remaining $145,000 fundraised through the Meaford Hall & Culture Foundation.
Rod MacAlpine, Chair of the Meaford Hall & Culture Foundation attended the May 8 meeting of council to present a cheque for their contribution to the project.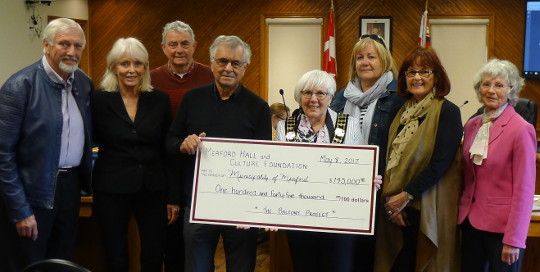 "It was a bit breathtaking for us to sign a letter of commitment for $145,000 for the balcony some 20 months ago," MacAlpine told council before presenting the cheque. "It's certainly the biggest undertaking the Foundation has taken to date."
Renovations to the balcony began in January 2017, leaving the Opera House out of commission for shows until the renovations were completed in April. The renovated balcony now contains 96 premium seats with some of the best sight-lines in the house. This brings the total seating for the opera house to 336 seats.
"We are immensely proud of all that has been accomplished," said Mayor Barb Clumpus. "Today the final link to the dream of our magnificent Meaford Hall, fully restored to its former glory, has been reached."