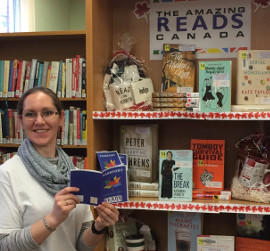 Collect your passport and travel across Canada with Meaford Public Library's Amazing Reads Canada challenge throughout the summer.
Your passport contains ten reading challenges. Each province and territory of Canada has a specific book you must read, or there is an author challenge known as a Block to tackle. When you come to a Block, you must read an author from that province or territory.
The books can be read in any order, however to complete the Amazing Reads Canada challenge, all books must be read. When you have finished reading a book, bring your passport to the front desk for an official Meaford Public Library stamp. Also, add a sticker to the map of Canada on display in the library to show others where you have travelled.
When you have completed your journey across Canada, the library will collect the cover of your passport and you will have a chance to win one of three fabulous prizes. The draw will take place on Tuesday, September 5.
For more information, please visit www.meafordlibrary.on.ca, call 519-538-1060 ext. 1123, or email: info@meafordlibrary.on.ca