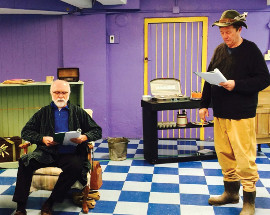 Community theatre is alive and well with the Meaford Theatre Company presenting The Fly Fisher's Companion play in the Marsh St. Centre and the Meaford Hall in June.
This play by Michael Melski, an award-winning writer and director, has had many plays published and produced across Canada.
The story introduces the audience to Wes, a writer, and Don, a businessman. They have returned to the fishing lodge they built together 50 years ago. This is their last trip to fly fish the river and bond – something they haven't done in a very long time. What we discover through the humorous, sometimes poignant, dialogue is that both men have secrets. Wes wishes to settle a lifetime of differences between himself and his former best friend. It is a tale that will offer audiences many insights into life.
The Fly Fisher's Companion will be opening at the Marsh St. Centre in Clarksburg on June 13 and 14 at 7:30 p.m., followed by Meaford Hall on June 24 at 7:30, and June 25 at 2 p.m.
Tickets are available at Meaford Hall, Marsh St. Centre, and Pharmasave in Thornbury.