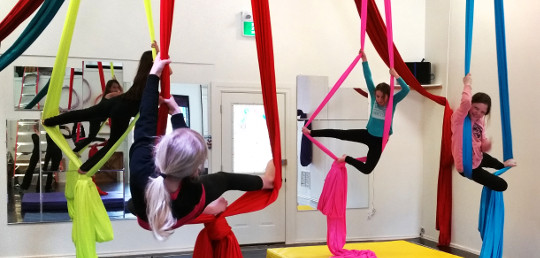 The community is invited to the first annual student showcase, featuring dance and aerial arts students from Mutable ARTS Dance and Aerial Arts Studio.
Performances will take place at the studio on Sykes Street on Saturday, June 17, and limited tickets are available in advance.
Students will turn, swing, climb, and leap as they dance both on the floor and in the air. Performances will feature ballet, contemporary dance, and a new art form known as aerial silks, where students climb and dance on fabric suspended from the ceiling.
"This is our studio's first public performance, and we are excited to share our work with the community," says Georgie Donais, owner of mutable ARTS.
Mutable ARTS nurtures confidence, creativity, and community through dance and aerial arts. The studio opened in Meaford in the fall of 2016. To learn more, visit www.mutableARTS.ca, or call 519-370-9087.
Event Details
Spring 2017 Student Showcase
June 17: 3 p.m., 4 p.m., 7 p.m., 8 p.m.
Mutable ARTS Dance and Aerial Arts Studio, 337 Sykes St. South, Unit 3, Meaford
Advance tickets: $10, available in limited numbers at the studio Monday to Thursday, 3:30 p.m. to 7 p.m., and Saturdays 9 to 11 a.m.