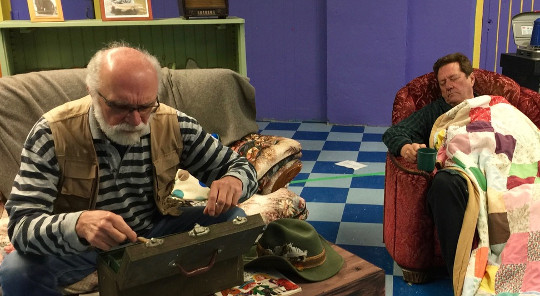 There's fishing and drama and comedy and two old friends re-living their lives. What more do you want in a play? Oh, and let's not forget a rookie co-lead and a veteran counterpart.
Chances, are, if you liked the Grumpy Old Men movie franchise, you're going to like Meaford Theatre Company presenting The Fly Fisher's Companion in the Marsh St. Centre and Meaford Hall in June.
The play is by Michael Melski, an award-winning writer and director, and there are only two characters. Wes is a writer dying of cancer, and Don is a businessman suffering from the early stages of Alzheimers.
Wes is played by Richard Prazmowski, a veteran actor, while Don is played by Bruce Cuthbert, a local business man who is making his debut on stage.
The two men have returned to the fishing lodge they built together 50 years ago. Wes wishes to settle a lifetime of differences between himself and his former best friend. It is a tale that will offer audiences many insights into life.
"Yes, Don is a grumpy old man, but I find him a bit of a sympathetic character," Cuthbert said. "That's the first thing I noticed. When I read it, he really came across as a crusty old guy, but he's also a bit of a lost soul. He doesn't want to be there, but he does, and there's a transition in his attitude, and he starts to soften up."
The terminal illness of Wes forces Don to confront his own mortality. Wes, intent on dealing with old, acrimonious issues before he dies, initially doesn't realize the distress he's resurrecting for Don, who has Alzheimer's related memory loss. Don simply doesn't remember many of those issues, and is intensely bothered by the memory loss.
Cuthbert said he's drawing on aspects on his own personality and life experiences to flesh Don out. Like most people, he's had friends and family suffer from cancer and Alzheimer's. He's also had debilitating health issues of his own.
"I can empathize with how frustrating things are for Don," he said, from observing friends and family dealing with dementia.
Mostly, though, Cuthbert simply 'gets' the character of Don, who's not entirely like him. It's a happy serendipity and fusion of personalities that just works, Margaret Yaraskavitch, the director, said.
Cuthbert, according to Yaraskavitch, is a natural on stage.
"You either have stage presence or you don't," she said in an interview June 1. "Bruce has it."
"He's spent all of his life playing Bruce Cuthbert, who's a character of his own," she added with a smile.
That's an accurate observation. Cuthbert, who is in software sales, has a natural affinity for people, Yaraskevitch said. He also has the gift of gab and an endless ability to talk about almost anything. If he was Irish, he'd have been banned from approaching the Blarney Stone repeatedly.
He also has the rare gift of being a good listener as well as a talker, which goes a long way in the world of theatre.
Yaraskavitch said the casting of the two-character play was crucial, and said she was initially thinking of a more experienced actor to play Don. However, she reminded herself that community theater is intended to be inclusive, and to open doors for new talent.
That sentiment, combined with an audition that blew the company away, led to her offering the part to Cuthbert within a day.
Cuthbert said he read for the part on a whim, and partly due to pressure by a friend who volunteers with the Meaford Theatre Company.
"I have someone else to blame if this flops," he quipped.
Although he has trepidations about performing, Cuthbert, not surprisingly, said he's been bitten by the acting bug, and has plans to try out for the fall production by the Meaford Theatre Company.
"It's a pleasure to work with two actors who really get the character," Yaraskevitch said. "And the play is really well-written. It's going to appeal to a lot of people."
The Fly Fisher's Companion will be opening at the Marsh St. Centre in Clarksburg on June 13 and 14 at 7:30 p.m., followed by Meaford Hall on June 24 at 7:30, and June 25 at 2 p.m.
Photo courtesy of Margaret Yaraskavitch