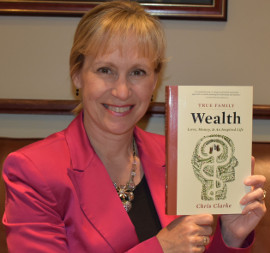 Meaford Public Library's final Koffee House Reads features Chris Clarke, author of True Family Wealth, at Gio and Fran's Italian Eatery on Monday, June 19, at 6:30 p.m.
Chris Clarke is the CEO and co-owner of Collingwood's First Affiliated Family Office Group, a family office firm which supports intergenerational financial management. Chris and her team assist their clients' families with a wide array of wealth, lifestyle, and legacy issues.
In True Family Wealth, Clarke provides financial advice and guidance for parents who want their children to thrive. The focus of the book is parents who have financial security and fear their children won't have the same. The book also advises adult children how to choose their own path to financial fulfillment.
Tickets are $10 per person and include a hot beverage and dessert. There are a limited number of tickets for this event. Stop by the library to get yours today.
For more information, contact the library at 519-538-1060 ext. 1123 or email info@meafordlibrary.on.ca
Photo: Chris Clarke with her book, True Family Wealth.