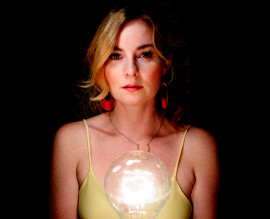 ECMA winner, three-time Juno Award nominee, and Polaris long-listener Jenn Grant brings her new album Paradise to Meaford Hall as part of a cross-Canada tour.
Critics have said that Grant expands to a galactic realm never before explored by the songwriter with Paradise. While Grant's 2014 Juno twice-nominated Compostela (Songwriter and Contemporary Album of the Year) focused on Grant's own personal experience of loss, this time she points the compass towards the epic and intimate and explores a new depth of sound.
"I wanted to explore new soundscapes," Grant explains when describing how piano came to be the primary song-writing instrument for the album. Grant created new shapes and colours with an array of new instrumentation and song collaboration with producer Daniel Ledwell. "I thought about my singing much more. I feel like I am a completely different artist from when I began performing. I don't feel like I really heard my own voice until recently."
Paradise feels personal and emotive, but it was born from a vantage point of watching as the world flexes amidst great joy and sorrow. Through her lyrics, Grant tells us of the world she watches from a distance, touching on global themes like love, growth, faith, longing, sex, death, and reinvention.
With the international success of Compostela, Grant spent three years touring the world and playing to over 300 audiences, both festivals and in concert settings with sold-out shows from London to Vancouver. Finally coming off the road, Grant retreated to the secluded studio by her home in Lake Echo, Nova Scotia. What emerged was Paradise – an album that sees a new dimension in Grant's songwriting with new depths of sonic beauty and melodic landscapes, touching upon balladry, R&B, and electronic music along the way.
Paradise's songs reach out with world-weary awareness that's most evident on lead single Galaxies, a song that is the aural equivalent of star-gazing. "I pictured people standing at the edge of the earth, hands outstretched, asking, 'What is bigger than us, than any of this?'" Grant says.
Jenn Grant is a Canadian treasure you don't want to miss: showtime is 8 p.m. Wednesday, June 21 at Meaford Hall Arts & Cultural Centre. For more information, visit www.meafordhall.ca, call 1.877.538.0463, or stop by the box office at 12 Nelson St. E. in downtown Meaford.