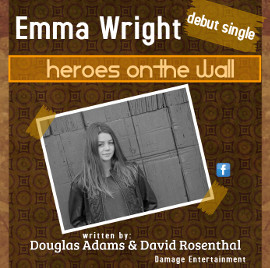 Emma Wright, a young emerging musician from Meaford, has announced her debut single Heroes on the Wall, to be released just in time for Canada Day 150 Celebrations.
The music was written by Douglas Adams and David Rosenthal, and it is a song that might resonate with you for many different reasons. Wright has been working with Adams, who is owner of Damage Entertainment, and the two decided to write a song that talks about the heroes in your life and how dedicated they are to their professions, the lives saved and lost, and the stories behind them. The song talks about how every story is alive, and how heroes fill dreams and give inspiration to our lives.
Rosenthal, who is a keyboardist and musical director who most recently toured with Billy Joel, joined Adams and Wright to finish writing the song and produced the final recording.
Wright has been singing under the direction of Tara Mackenzie since she was five years old, and has spent the past seven years mastering her talent, competing across Ontario and singing at events and celebrations.
"When you hear someone very young sing well, it is impressive. But when you hear someone interpret a song in a way that moves you, it doesn't matter how old the performer is. That's what happens when Emma sings. She often sings at local events in her home town of Meaford and when she does, people within earshot stop and ask, "Who is that voice?" said local music website Meaford Live Music of her talent.
Wright will be featured this Canada Day at Blue Mountain Village's Canada Day Celebrations on July 1. She will perform with her bandmate Jayden Grahlman.
Emma Wright's new song Heroes on the Wall is available for download at emmawright.net – 25 cents from each download will be donated to CCISF (Canadian Critical Incident Stress Foundation) in support of PTSD initiatives and Camp F.A.C.E.S. (families and children of emergency services) supporting surviving families of line of duty death and suicide.
You can find Emma on Facebook at emmawright@wrightmusic2003 or on her website at emmawright.net.