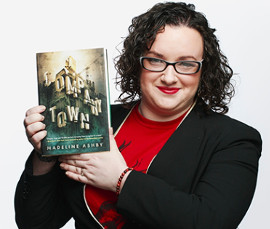 The Meaford Public Library will host Canadian author Madeline Ashby on Wednesday, July 19 at 2 p.m. at Meaford Hall.
Madeline Ashby is a science fiction author whose novel Company Town was a finalist in 2017 Canada Reads event, coming in as runner-up.
The novel is a futuristic murder mystery set off the coast of the Canadian Maritimes. It features a strong female character who has to decide whether to save her town or save herself.
Ashby also writes a column for the Ottawa Citizen and her short stories have been published in anthologies and literary magazines. During the July 19 event, she will speak about her experience as a writer, how futurism influences her work, and how having Company Town a part of Canada Reads has impacted her career.
Tickets are $10 per person and can be purchased in advance at the Meaford Public Library. Copies of Company Town, provided by Jessica's Book Nook, will be available for purchase at the event. For more information, contact the Meaford Public Library at 519-538-1060 ext. 1123 or email: info@meafordlibrary.on.ca.
Photo: Madeline Ashby with her Canada Reads title Company Town.