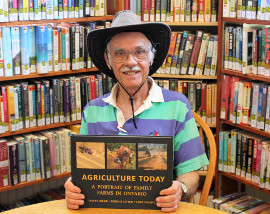 The Meaford Public Library will host local photographer and author Telfer Wegg on Thursday, August 10 at 6:30 p.m. in the Meaford Public Library reading room.
Telfer Wegg is one of three contributing photographers and authors to the book Agriculture Today: A Portrait of Family Farms in Ontario. An accomplished outdoor photographer, Wegg has a passion for rural and agricultural subjects.
At the event on August 10, Wegg will discuss agriculture in Ontario as well as the family farms presented in the book. The photographs feature farms in Grey, Huron, and Bruce counties and include livestock, machinery, buildings, and crops with descriptive text putting each image into context.
This is a free event, however space is limited. Please register at the Meaford Public Library in advance. Copies of Agriculture Today: A Portrait of Family Farms in Ontario will be available to purchase at the event. For more information, contact the Meaford Public Library at 519-538-1060 ext. 1123 or email info@meafordlibrary.on.ca
Photo: Telfer Wegg with his new book, Agriculture Today: A Portrait of Family Farms in Ontario. Photo: Amy Jennison/Meaford Public Library