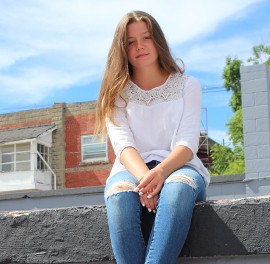 Emma Wright is bound for the Canadian National Exhibition's Rising Stars contest for the fifth time.
Meaford's 13-year-old songstress with a powerful voice is blessed with a huge amount of raw talent, her mother Jen said, just waiting to be tapped.
Emma has yet to win the contest, but in many ways she's indifferent to that aspect of the contest. She's much more interested in the learning curve and simple opportunity to work on perfecting her craft.
"I'm not that competitive," she declared emphatically. "There's always going to be people better than me. I could finish last and I wouldn't care if I've done my best."
"It's just a good environment, and a lot of the artists come back for another year, so you get to meet a lot of new artists and singers and dancers. It's not really about winning; it's about the experience and meeting people and spending a day at the CNE with my friends and family."
Her mother, though, smirked a bit at that, and acknowledged that Emma's a little more competitive than she lets on.
"She's actually very good about it, though," Jen said. "She doesn't cry or take it hard about where she ends up."
Emma said she isn't sure where she wants her talent to take her.
"It's about getting more comfortable being on stage, and this is a great opportunity, but I'm not sure yet where I want to go with my music. It's a really hard decision. I'm not sure whether I want to do it as a career yet or as a hobby. It's a hard decision to make at 13. I just know I enjoy it."
She describes herself primarily as a country artist, but added she sings a wide variety of music from all genres.
"I think the genres are all mixing now, and heading towards pop. Pretty soon I think there won't be genres, it'll just be the feel of the music."
Emma has recently taken up song-writing, and is finding the process challenging but interesting.
"The hardest thing is starting to write a song when I don't have an idea," she said. "I've written one song so far, and it was hard."
She wrote the song with some assistance from established local musicians Doug Adams and David Rosenthal, but it still "took a long time."
"We're very lucky we live in such a musical community," Jen said. "We're not a very musical family, so it's been very good to have a community that supports music."
Apart from the CNE and the Boot and Hearts festival near Barrie, Emma said she would be slowing down her activities for the rest of the summer. She's off to camp for a couple of weeks, and then wants to spend down time with her friends and family before school starts.
That reduced schedule might continue for some time, as she's planning on working part-time once she turns 14.
Contestants in the CNE's Rising Stars competition are aged 6 to 21, and are judged on their natural ability, audience appeal, stage presence and the quality of their performance; and will compete at the CNE from August 18 to September 3.