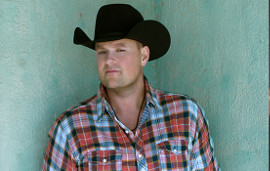 Country music fans will want to get their tickets early for a January performance at Meaford Hall by 16-time CCMA award-winning artist Gord Bamford.
A true performer for the fans, Bamford loves to perform at smaller venues to connect with his fans on a more intimate level. The Australian-born, mainstream Canadian country artist who's been amassing accolades and achievements for over 20 years will perform at Meaford Hall on Tuesday, January 30, at 8 p.m.
He is widely regarded as one of the top five current Canadian country artists along with the likes of Tim Hicks, Dallas Smith, Dean Brody, and Brett Kissel.
His friendly and nurturing presence commands the respect of his fan base and his peers. Regardless of where he performs, he wins over his audience and has everyone tapping or singing along. This has earned him performances with industry giants such as Tim McGraw, Terri Clark, and Kenny Rogers, to name a few.
Bamford was encouraged to pursue music by his mother, who was a country singer. He started working in Nashville, the heart of country music, in 2003, where he released his second album, Life is Good. This album helped launch his successful career, not only in Canada, but throughout the world.
Bamford, like all small-town Alberta boys, grew up wanting to be one of the big money-making athletes he watched on television. "That all changed after I went to my first Garth Brooks concert. After that, I started writing and singing and everyone (especially my mother) just encouraged me to keep doing it."
His new album, Tin Roof, has helped him gain even more exposure – Tin Roof peaked at the 16th position for all Canadian billboard albums for 2016. This album includes hit singles, 'Don't Let Her Be Gone', 'Heard You in a Song', and 'Breakfast Beer'. 'Don't Let Her Be Gone' reached number three on the Canadian billboard in 2015 and in early 2016.
The Gord Bamford Foundation is a passionate, not-for-profit organization dedicated to supporting youth. The foundation provides funds for initiatives that include or involve music, education, health care, sports, and multi-use facilities that benefit youth across Canada. The Gord Bamford Foundation has raised $2,759,135 to date.
This is a show you won't want to miss: Gord Bamford plays the Meaford Hall Arts & Cultural Centre Tuesday, January 30 at 8 p.m. Tickets go on sale Friday, August 11 at 10 a.m. and start at $55, and are available online at www.meafordhall.ca, by phone 1-877-538-0463, or in person at 12 Nelson St E. For more information about these and other upcoming events, check Meaford Hall online, follow on Facebook, or on Twitter @MeafordHall.