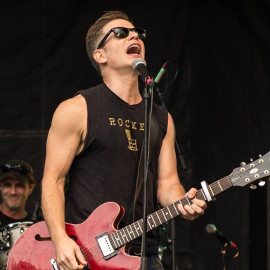 On Friday, August 25, Tom Barlow will be headlining the final concert in this year's Meaford Summer Concert Series. This year's series has been even more successful than last year's, and it is particularly fitting that Tom Barlow would headline the final show of the season.
Barlow is a Canadian recording artist who has garnered four Juno Award nominations and has released three audio albums. His debut, Barlow, earned three top-ten radio hits and was nominated for two Juno Awards. His politically charged second album was also nominated for a Juno. Barlow has performed in virtually every corner of planet and writes and performs lyrically driven, emotionally compelling rock and roll.
Last Monday he celebrated eleven years as host of the Monday night jam at The Shore Grille and Grotto in Port Credit. For over a decade this open mic has been important to developing musicians. At Tom Barlow's jam nights people can get up and play with the industry's top musicians as their backing band, a band with a tight groove that can make them feel comfortable and allow them to showcase their talents.
"I love it!" he says. "That kind of mentorship and half butt-kicking that moves people from being terrible to okay, to good, to fantastic, to pro, and they go on to make gold records. All this stuff kind of feeds itself. You have to get out and play. It's okay to be terrible at a jam night, that's how you learn. You go and you meet other musicians and you develop."
When he started the weekly jam a decade ago he had no idea that it would become so important to so many emerging talents. And he had no way of knowing that his Port Credit jam would become an important part of creating a live music scene three hours away in Meaford on a whole different Great Lake.
"Yes, for sure, one hundred percent," says Chris Scerri, who has introduced Meaford audiences to many of the regulars at Tom's Monday jam. Performers like Tyler Yarema, Gracie, Victoria Yeh, Sean Cotton, Virgil Scott, John Bride, and Marshall Dane have come to Meaford in the past year and made their mark. They were people Chris saw first at Tom's jam.
"Chris showed up at jam night one Monday night," Tom says. "He got up and did a song and we chatted afterwards. And then he kept coming back and we became friends. When he and Marissa moved to Meaford he wasn't very impressed with the music scene there and he set out to reproduce there what we have in Port Credit."
For Chris, what Port Credit had was Tom Barlow.
"Marissa and I moved into the neighbourhood in Port Credit and we were looking for somewhere to hear live music," says Chris, "The Harp had some guy named Tom Barlow singing there. So we walked in and he was amazing. He did all this great music. Then he brought some people up to sing. I thought, 'I'd love to do that.'" (The jam later relocated down the street to The Shore Grille and Grotto.)
He became friends with Tyler and guitar player John Bride. "John loved Cream so I chose Crossroads for my first song," Chris says. "And for the longest time it was the only song I'd sing."
When Chris decided to create a music scene in Meaford, he simply imported all the great players from Tom's Monday night jam. But at the same time he hosted an open stage himself every week at The Leeky Canoe and he soon discovered that in Meaford he was surrounded by talents equal to the great players he'd been exposed to in Port Credit.
Despite his influence on Meaford he's not sure if people know him here. "When I play Meaford, there's going to be a lot of people who have never heard of me. I might make a new fan." But people who saw the Great Canadian Songbook at Meaford Hall or the Birthday Celebration at the Marsh Street Centre will remember Tom Barlow.
The Meaford Summer Concert Series has been the centrepiece of Chris Scerri's campaign to switch on live music in Meaford. Every concert has mixed his discoveries from Port Credit with the best of Meaford's local talent and the sparkling promise of Meaford's youth performers.
For this final concert of the summer the youth performer will be the impressive and mature-beyond-his-years Greg Smith, whose participation in GBSS Idol a few years ago was followed by a European sojourn where he played and recorded, an EP release here at home, and several showcase concerts to a growing audience over the past year.
And the local opening band will be Horseshoes and Hand Grenades, a band that features Chris Scerri, Jayden Grahlman, Jon Zaslow, Johnny Roy, and Beaker Granger. This is the band that has been joining Chris recently at his Leeky jams, and they represent some of the best local players. While he plays every Sunday in Blue Mountain Village with a band made up of jammers from Tom's open stage, Horseshoes and Hand Grenades consists of musicians he's discovered at his own jam. Opening for Tom Barlow at the last of the Meaford Summer Concert Series gives Chris a chance to show his mentor some of Meaford's home-grown talent.
As always the show is free and starts at 7 p.m. at the Market Square. Bring a camp chair and food for Golden Town Outreach.
For more Meaford Music news, check out the new Meaford Live Music website: www.meafordlivemusic.com.