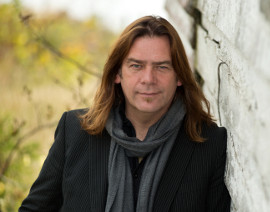 The Meaford Public Library has announced that it will host celebrated author and musician Alan Doyle in its signature author event of the 2017 fall season. Doyle will appear at Meaford Hall at 7 p.m. on Wednesday, October 18, to discuss his new book, A Newfoundlander in Canada.
Following the fantastic success of his bestselling memoir, Where I Belong, Great Big Sea front man Alan Doyle returns with an exciting new book. A Newfoundlander in Canada is a hilarious, heartwarming story of leaving home and discovering Canada for the first time.
Armed with the same personable, candid style found in his first book, Doyle turns his perspective to mainland Canada, reflecting on what it was like to venture away from the comforts and familiarity of home on the island. Heartfelt, funny and always insightful, these stories tap into the complexities of community and 'Canadianness', forming the portrait of a young man from a tiny fishing village trying to define and hold on to his sense of home while navigating a vast, diverse and wonder-filled country.
This event is not to be missed. Each $30 ticket includes a signed copy of A Newfoundlander in Canada and Alan Doyle will be available to autograph books following his presentation.
Tickets are available at Meaford Hall by calling 519 538-0463 or go to: www.meafordhall.ca to purchase your ticket today.