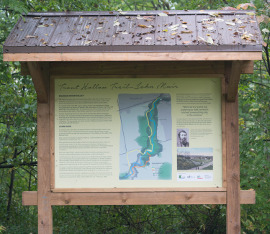 More than 20 years have passed since the Canadian Friends of John Muir confirmed the location where the great conservationist and founder of the Sierra Club spent two years as a young man – in Trout Hollow, on the shore of the Bighead River, within the Municipality of Meaford.
The archaeological dig in the 1990s located the spot where John Muir's cabin sat on a knoll above the west side of the river, bringing to life an important link between the young Scottish-born American who wandered into Canada in 1884. Some would say Muir was yet another young American avoiding conscription into the Civil War. But, Muir saw himself as an "unknown nobody", a wilderness prophet in search of understanding and guidance.
This year, the Trout Hollow Trail that runs parallel to the Bighead River - from Bakeshop Bridge in Meaford south to the 7th Line and back toward Meaford on the opposite side of the river - has been designated an interpretive trail, with signs that identify points of interest along the way and offer historical information on John Muir's time living and working in Trout Hollow.
The trail will be officially opened during a ribbon-cutting ceremony on Saturday, September 30 at 10 a.m. at the Riverside Hall on the 7th Line. Local historian and Muir enthusiast, Robert Burcher, will then lead a hike into the site of the Muir cabin and Trout Sawmill.
Burcher was a member of the former Canadian Friends of John Muir and the Bighead River Heritage Association and has led several guided tours to the site over the years. He is keen to share his knowledge of Muir based on his personal research retracing Muir's travels to Canada that led him to Trout Hollow, the Bighead River, and the short two years living there before he began his long journeys on foot throughout the United States. Burcher, like many historians, views Muir's time in Trout Hollow as the formative years that helped shape Muir's conservationist views. In later life, Muir founded the Sierra Club that today is recognized as the leading conservation organization worldwide. He is also credited for his work with President Roosevelt in amalgamating the Yellowstone and Yosemite Parks, and for the formation of the American national park system.
The ribbon-cutting ceremony and hike will be hosted by the Meaford Museum. Customer Service and Administrative Assistant Jen Simon describes Burcher as a "fountain of information". "Burcher will undoubtedly convey a sense of the man we know as John Muir," she said. "This event is a great way to celebrate the Culture Days weekend."
The public is invited to the museum for cake and refreshments on Saturday, September 30, at 1:30 p.m., and for a chance to view the museum's collection of Muir documents including copies of letters that Muir wrote to his Canadian friends, the 'Trouts and the Jays', and the 'Hollow group', in the four years following his time in Trout Hollow.