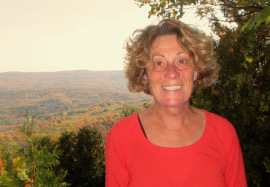 Georgian Bay's premier literary event of the year returns on Saturday, October 21 at the Collingwood Leisure Club at 7 pm. The 9th Annual Georgian Bay Reads pits book defenders from five local libraries against each other to determine the best Canadian title. It's a battle of the books full of entertainment as each defender argues why their book deserves to win.
The participants are: Clearview Public Library-Julie Pollock defending The Lost Diaries of Susanna Moodie by Cecily Ross; Collingwood Public Library-Mariane McLeod defending Rilla of Ingleside by L.M. Montgomery; Meaford Public Library-Leslie Ransom defending Indian Horse by Richard Wagamese; Springwater Public Library-Anne Arksey defending Man in the Shadows by Gordon Henderson; Wasaga Beach Public Library-Cathy Turrie defending We're All in This Together by Amy Jones. The moderator will be Julie LeBlanc of Collingwood, the 2016 Georgian Bay Reads Winner.
Each defender will explain why their book is the best, as the Moderator gives them questions to be answered within a set time limit. Go overtime and the bell will sound! Meanwhile, the other contenders will be arguing and presenting critiques of all books. As each round ends, one book is voted out, until only the Georgian Bay Reads Champion is left. The audience can participate in the fun as well by voting for the People's Choice Award.
Admission is free, but tickets are limited and required. The Meaford Public Library will also be providing a bus to and from the event. Bus tickets are $5 per person. Pick up your tickets and reserve your seat on the bus at the Meaford Public Library.
For more information, please contact the Meaford Public Library at 519-538-1060 ext. 1123 or email info@meafordlibrary.on.ca
Photo: Leslie Ransom will represent Meaford in the 2017 Georgian Bay Reads, defending the book Indian Horse by Richard Wagamese.