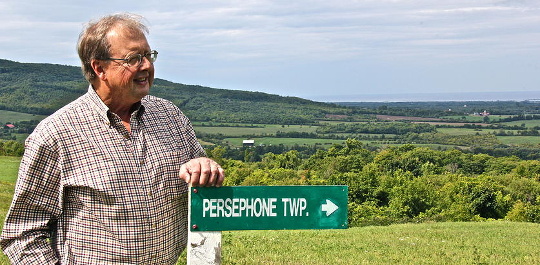 The Friends of the Meaford Library and the Meaford Public Library are excited to host local author Dan Needles for a night of hilarity on Tuesday, November 14 at 7 p.m. at Meaford Hall.
Dan Needles is widely known for his very amusing tales of Ontario country life. When he was editor of a small-town weekly newspaper, he created a column called "Letters from Wingfield Farm", located in a mythical Persephone Township. These columns became the basis for popular stage plays and television series, and the rest, as they say, is history.
Needles currently has a regular column entitled "Fenceposts" in On the Bay magazine and its sister magazines, In the Hills and Watershed. He is also a columnist for Harrowsmith magazine. Needles currently lives at Larkspur Farm in Simcoe Country within sight of Georgian Bay and the Niagara Escarpment.
Come prepared to laugh long and hard at Dan Needles' uproarious stories and observations of rural life. He is an entertainer not to be missed.
Tickets are $25 and can be purchased at the Meaford Public Library or online by following the link on the Meaford Public Library's website at www.meafordlibrary.on.ca. Copies of Dan Needles' new book, True Confessions from the Ninth Concession ($22.95), will be available to purchase the night of the event courtesy of Jessica's Book Nook. For more information, please contact the Meaford Public Library at 519-538-1060 ext. 1123 or email info@meafordlibrary.on.ca.