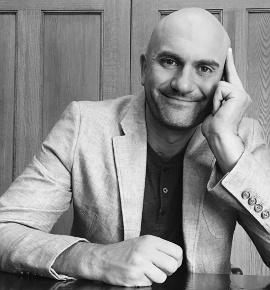 Thornbury teacher Marty Elkins is riding a wave of excitement this week with the launch of his first novel Leave Us in Peace, published by Ginger Press.
Leave Us in Peace chronicles the lives of fictitious characters divided by war, five of whom are united in peace time in a mutual search for harmony and a resolution to the chaos of their former lives. The novel is categorized as adult fiction though the inspiration for the book, Elkins says, stems directly from his experience as a teacher and his students' keen interest in the details of war.
While teaching in Flesherton, Elkins led an extracurricular history club for Grade 7 and 8 students eager to learn and discuss World War II, "students whose knowledge base up until then was very low but who hung on every word," he says.
"In time the history club came to an end. Leave Us in Peace was a natural progression. I was inspired to write down all that we had been talking about."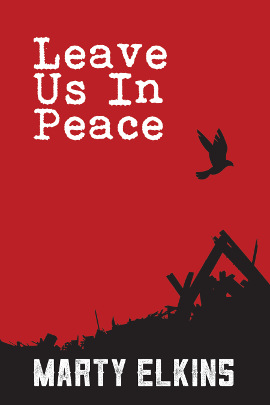 Combined, Elkins' main characters portray the atrocities of war on all fronts - Alice, a young English girl whose war effort places her offshore during the retreat from Dunkirk, in North Africa, the Mediterranean, and in Italy; Wally, a 17-year-old from Thornbury, Canada, eager for action, injured, and, in the last days of the war, fatally wounded; 17-year-old Konrad and his 12-year-old brother Pietr who witness first-hand the slaughter of family members; Yulia and her husband Aleksandr whose correspondence tells of the trials endured during the advance on Russia; Toshiro, a proud young Japanese pilot and swordsman in the Emperor's army and his sister, Aiko, a victim of a nuclear bomb dropped over Nagasaki; and Emily, who brings the American presence in the war to the novel through her brother Patrick.
As Alice prepares to join the war effort at home, she discovers a file of newspaper clippings amongst her Uncle Ramsay's papers. The headlines chronicle the rise of Hitler to power and the onset of the war. In this way, Elkins paints the scene of his novel in broad strokes rather than infinite historical facts. Throughout the novel, radio and newspaper headlines serve to update the reader as the war advances. "Of all of human history people know a massive amount about World War II," he said. "It's all out there which is both an opportunity and a curse for an author, a curse because there are so many chances of getting it wrong. It is extremely difficult to nail all the facts down. But I stand by my research and opinions, and am confident that I can defend myself."
Leave Us in Peace is dedicated to Harry Kozuch, originally from Warsaw, now living in Owen Sound. "Harry often spoke to students during school Remembrance Day services," Elkins said. "While sitting listening to him speak, I decided that his story needed to be told."
Harry's Holocaust experience is the basis for the character of 17-year old Konrad.
Leave Us in Peace is now on sale at Ginger Press in Owen Sound and from the author. For more information and a schedule of book readings visit www.martyelkins.ca.