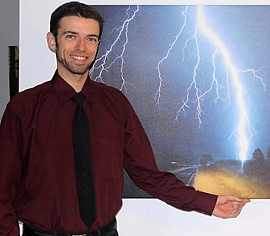 The Meaford Public Library will host photographer and storm chaser David Chapman on Wednesday, November 22 at 2 pm at the Barn Co-operative.
Originally from the Markdale area, David Chapman has been involved in photography since he was 16 years old, and has a passion for capturing severe weather, northern lights, and scenery.
At the event, Chapman will show his remarkable photographs of storm chasing in Ontario. Some of the photos are in Grey County, and will include images of shelf clouds, funnel clouds, lightning, and a short video of the life cycle of a tornado.
He will also be speaking about his time studying weather conditions and explain how storms develop. Understanding these factors helps Chapman position himself for the perfect shot.
This is a free event, however space is limited. Please register at the Meaford Public Library in advance. For more information, please contact the Meaford Public Library at 519-538-1060 ext. 1123 or email info@meafordlibrary.on.ca.